[REVIEW] IUNIK VITAMIN HYALURONIC ACID VITALIZING TONER & PROPOLIS VITAMIN SYNERGY SERUM
I once attended a kind of webinar with a dermatologist as a resource. It is said that our skin type can't actually stick to just one type forever, but it can also change according to circumstances. Turns out I did this myself. In the past few months, my skin condition has changed, from normal to dry to being a bit sensitive and very dry. Is it the weather, hormones, or something else?
Well, actually there are many factors that can affect this change in my skin type. The only way is to switch my skincare routine. If you usually only focus on moisturizing, now you have to choose extra skincare that is really for sensitive skin. Now my skin is rough in texture and there is a little redness.
Then yesterday, the acne was really long. I usually don't get pimples for long, maybe 3-4 days at most. But yesterday, the acne was so comfortable hanging out that it lasted for more than 2 weeks, and after the blemishes disappeared, the acne scars didn't go away! Huhuhu sad.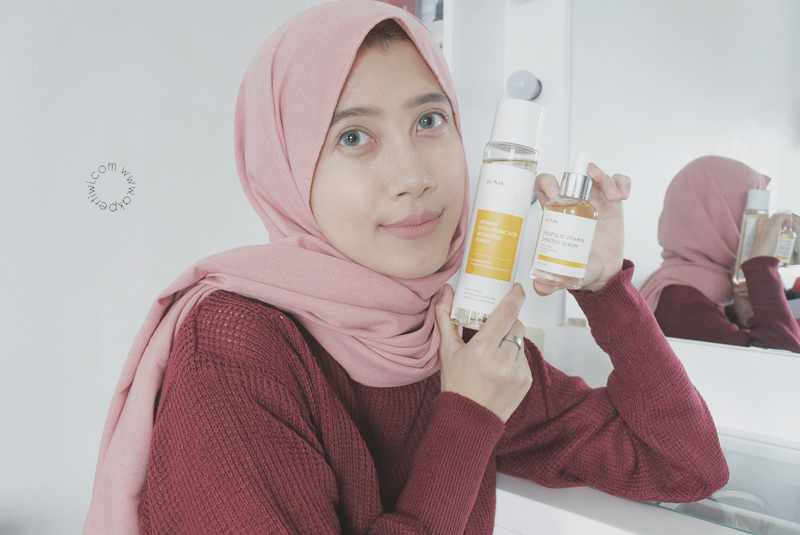 By the way, now I'm trying a skincare that is formulated for dry and sensitive skin. In my skincare routine I use 2 products from iUNIK Korea, namely Vitamin Hyaluronic Acid Vitalizing Toner and Propolis Vitamin Synergy Serum. To see whether the results are significant or not, I use these two products together with a facial wash and moisturizer without certain active ingredients.
These two products are shipped from Ponny Beaute , one of the Indonesian beauty e-commerce. Thank you very much!
iUNIK itself is a brand from South Korea that is formulated with natural ingredients that are hypoallergenic and has a good EWG Rating. This is my first time trying products from iUNIK. What's the review like? Immediately read below, yes.
Review iUNIK Vitamin Hyaluronic Acid Vitalizing Toner & Propolis Vitamin Synergy Serum
Packaging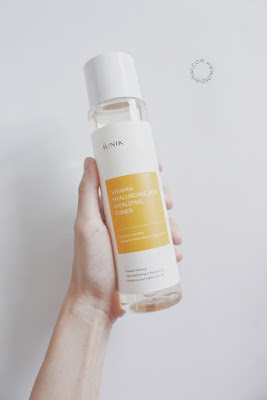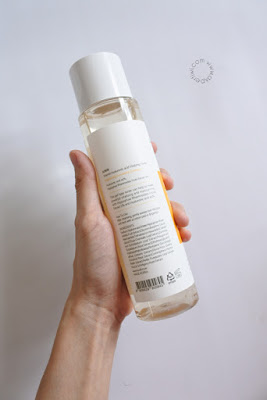 As usual, we discuss the packaging first, one by one. The color image of these two products is white with orange accents. First for the iUNIK Vitamin Hyaluronic Acid Vitalizing Toner, this is packaged in a fairly large bottle with a net of 200ml. When it first arrived, the toner didn't have a box and was just sealed with ordinary plastic.
On the back of the bottle, you can see that there is product information about how to use it, product knowledge, and an ingredient list. In my opinion, even though the material is made of plastic, this iUNIK Vitamin Hyaluronic Acid Vitalizing Toner bottle is quite thick and sturdy, and the lid is also quite safe and tight.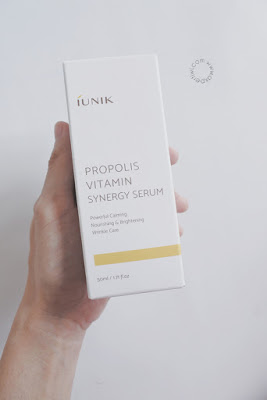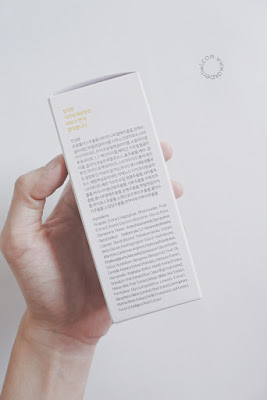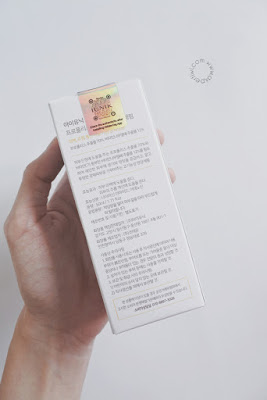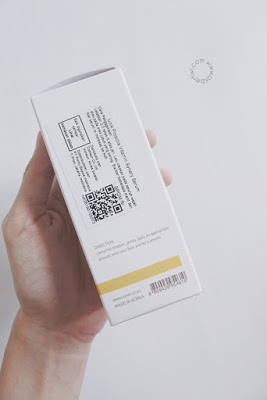 Next for the iUNIK Propolis Vitamin Synergy Serum, this serum is packaged in a medium-sized box. The net is 50ml, and it is quite large for a serum product when compared to similar products. The box contains an ingredient list in two languages, Korean and English. While on the other hand there is product information but everything is written in Hangul letters.
But because iUNIK has officially entered Indonesia and has been registered with BPOM as well, there is a small sticker that says how to use it in Indonesian and QR Codes to check the POM number. Oh yes, this iUNIK is officially distributed by Ponny Beaute, so if you want to buy an iUNIK product that has an official distribution permit and is original and legal, you can buy it directly at Ponny Beaute.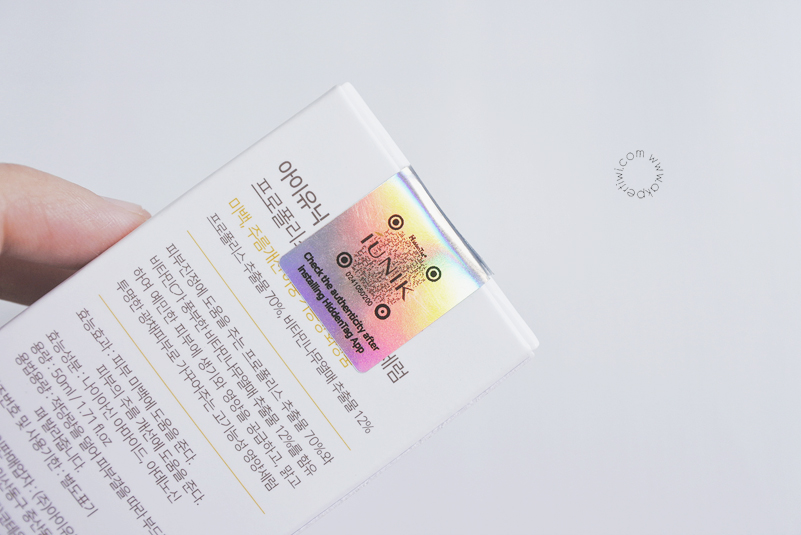 One more thing, at the top of the box there is a hologram sticker that indicates the authenticity of this product. You can check its authenticity through the HiddenTag application. As far as I know, there are some Korean brands that also use this kind of hologram sticker, making it easier for us to check the authenticity of the product.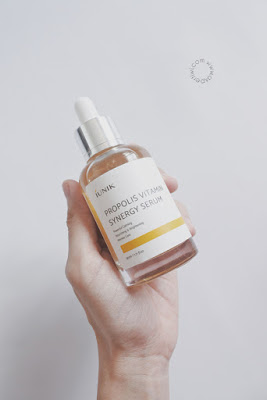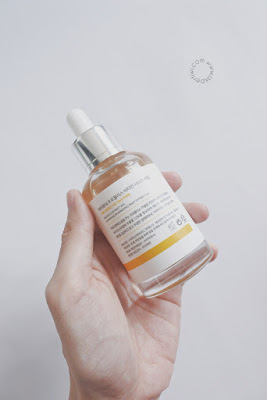 As for the packaging, the iUNIK Propolis Vitamin Synergy Serum is packaged in a large glass bottle, with a dropper at the end. Again, on the bottle, all the product information is in Korean. Do we take Korean lessons first so we don't have to use subtitles so we can watch dramas later?
Both of these products have an after-opening period of 12 months only. In addition, the packaging can also be recycled.
Ingredient List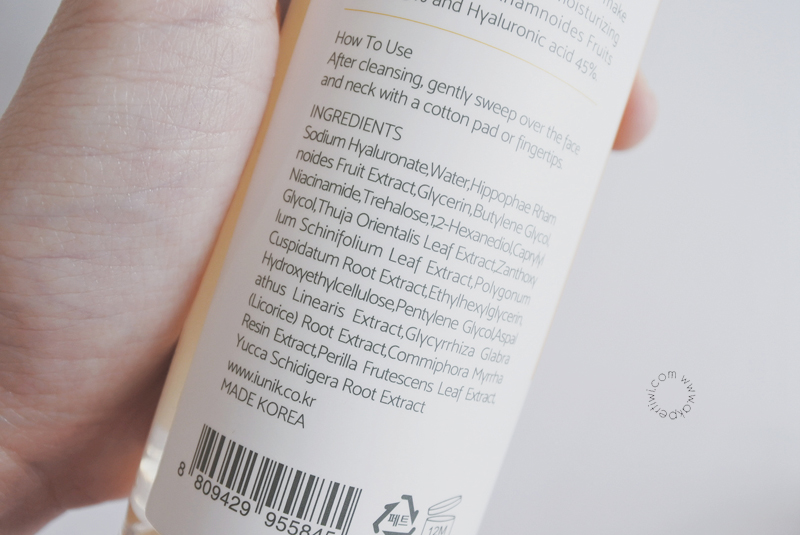 iUNIK Vitamin Hyaluronic Acid Vitalizing Toner Ingredient List - Sodium Hyaluronate, Water, Hippophae Rhamnoides Fruit Extract,Glycerin, Butylene Glycol, Niacinamide, Trehalose, 1,2-Hexanediol, Caprylyl Glycol, Thuja Orientalis Leaf Extract, Zanthoxylum Schinifolium Leaf Extract, Polygonum Cuspidatum Root Extract, Ethylhexylglycerin, Hydroxyethylcellulose, Pentylene Glycol, Aspalathus Linearis Extract, Glycyrrhiza Glabra (Licorice) Root Extract, Commiphora Myrrha Resin Extract, Perilla Frutescens Leaf Extract, Yucca Schidigera Root Extract.
Quoting from Skincarisma Ingredient Analyzer, according to its claim, the ingredients contained in iUNIK Vitamin Hyaluronic Acid Vitalizing Toner do have a good EWG Rating, the number is at 90%. This product is suitable for dry skin because the ingredients tend to moisturize, besides that there is also Licorice Root Extract which can speed up the healing process of acne and brighten. The Niacinamide content is also quite high when viewed from the order of ingredients because it is at the top.
Based on its product knowledge, iUNIK Vitamin Hyaluronic Acid Vitalizing Toner contains 45% Hyaluronic Acid and 5% Hippophae Rhamnoides Fruit Extract. Quoted from the Paula's Choice website, Hippophae Rhamnoides Fruit is the scientific name of Sea Buckthorn. Sea Buckthorn belongs to the berry family and is a good source of vitamin C. Not only vitamin C, Sea Buckthorn also contains B vitamins, vitamin E, lycopene, phytosterols, and many other phenolic compounds which are antioxidants.
This fruit extract has the ability to stabilize elements in the skin that normally break down in the presence of peroxides and free radicals. Similar to other berry families, Hippophae Rhamnoides Fruit Extract has a calming effect on the skin making it suitable for sensitive skin.
As far as I know, dry skin in addition to needing moisture, should also get enough antioxidants to fight the signs of premature aging. Compared to oily skin which tends to be thicker, dry skin is thin and very easy to appear premature aging such as wrinkles or fine lines if not cared for properly.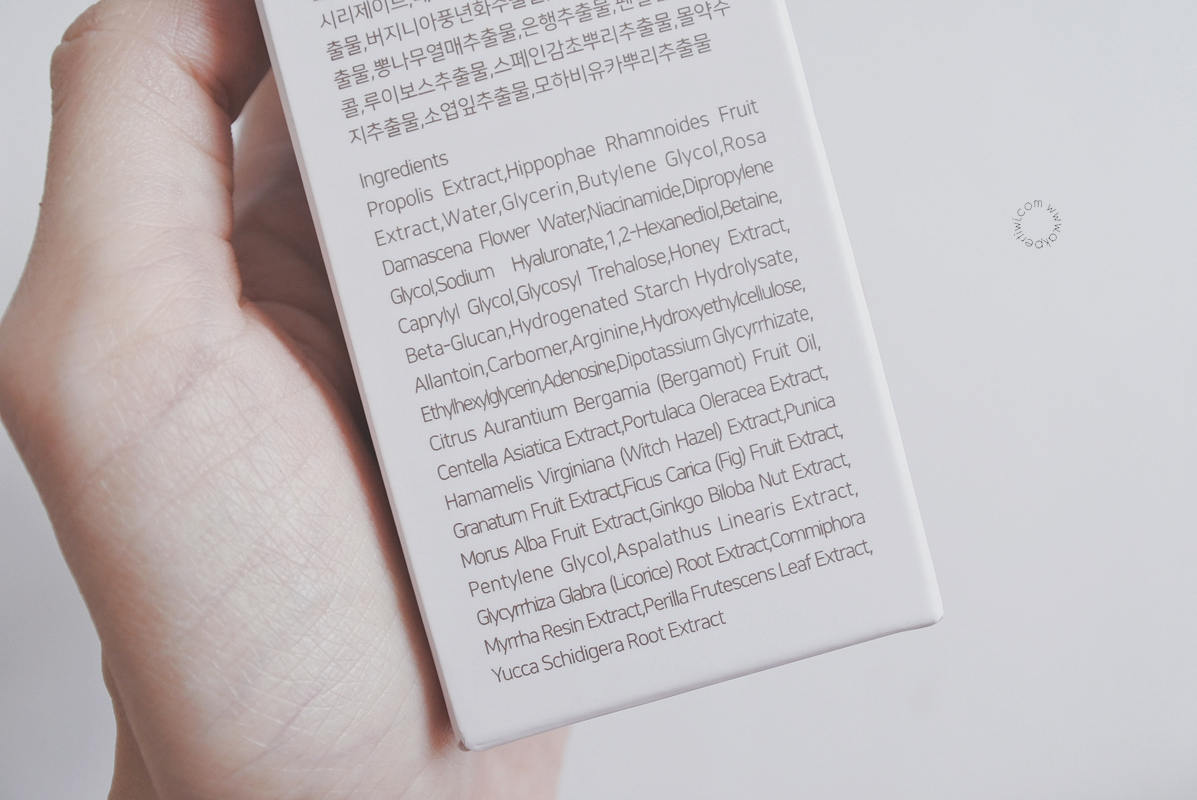 iUNIK Propolis Vitamin Synergy Serum Ingredient List - Propolis Extract, Hippophae Rhamnoides (Sea Buckthorn) Fruit Extract, Water, Butylene Glycol, Glycerin, Methylpropanediol, Niacinamide, Dipropylene Glycol, 1,2-Hexanediol, Rosa Damascena (Rose) Flower Water, Sodium Hyaluronate, Betaine, Glycosyl Trehalose, Honey Extract, Beta-Glucan, Hydrogenated Starch Hydrolysate, Allantoin, Carbomer, Arginine, Hydroxyethylcellulose, Adenosine, Dipotassium Glycyrrhizate, Pentylene Glycol, Citrus Aurantium Bergamia (Bergamot) Fruit Oil, Centella Asiatica (Gotu Kola) Extract, Portulaca Oleracea (Green Purslane) Extract, Hamamelis Virginiana (Witch Hazel) Extract, Punica Granatum (Pomegranate) Extract, Ficus Carica (Fig) Fruit Extract, Morus Alba (White Mulberry) Fruit Extract, Ginkgo Biloba (Maidenhair Tree) Nut Extract, Caprylyl Glycol
Even better, iUNIK Propolis Vitamin Synergy Serum has an EWG Rating of 100% guys! Very cool. Similar to the toner product, this serum is free of alcohol, parabens, sulfates, silicones, allergens, and is included in the fungal acne safe category.
This serum is suitable for all skin types, from dry skin, oily skin, acne skin, to sensitive skin. There is Niacinamide which functions as anti aging and brightening, Adenosine which can soothe and protect the skin, and Centella Asiatica which accelerates the wound healing process such as acne scars on the skin. I think it's a very complete package.
Also written on the packaging, iUNIK Propolis Vitamin Synergy Serum contains 70% Propolis Extract. Just like the toner, it also contains 12% Hippophae Rhamnoides Fruit Extract.
Quoting from Byrdie, propolis is a resin-like substance and is a combination of tree sap and beeswax. Propolis is produced naturally by bees to fill in the gaps in the beehive for protection. You could say this propolis is a multifunctional content. Its benefits for the skin are as antibacterial and antifungal because it is rich in flavonoids, works to regenerate the skin to smooth its texture, moisturize, accelerate the skin recovery process, fight free radicals with its antioxidants, and control oil production.
In addition, propolis is also useful for preventing acne. The cause of acne is bacteria and microbes that grow in the pores of the skin. The antibacterial properties of propolis are useful for fighting these bacteria.
Texture & Fragrance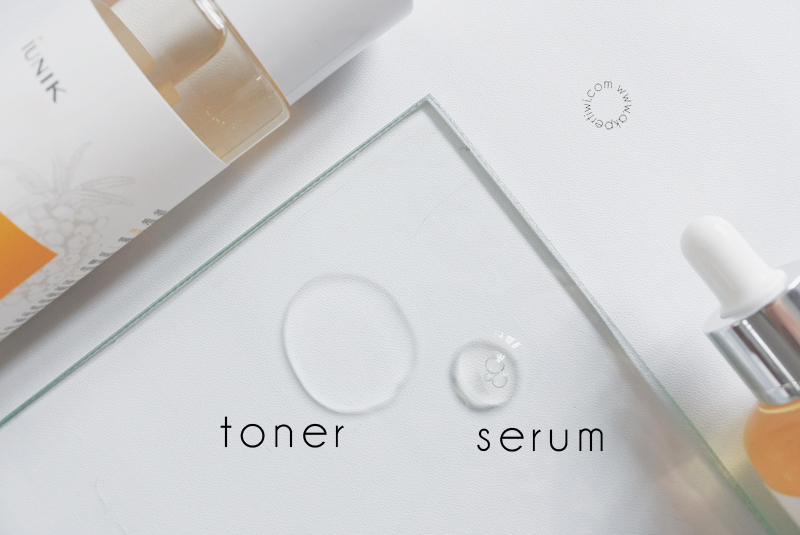 Because it is a hydrating toner, the texture of this iUNIK Vitamin Hyaluronic Acid Vitalizing Toner is quite thick. Even though it says how to use it is poured into a cotton swab before wiping it, I prefer to pour it directly into the palm of my hand and then pat it on my face.
Meanwhile, the texture of the iUNIK Propolis Vitamin Synergy Serum is more or less the same thickness and both are clear in color but slightly yellowish. You can see it from the bottle.
Both contain no artificial fragrance, but I can definitely smell very subtle floral notes, with a hint of acidity. I really like fragrance-free skincare products like this because apart from being friendly to sensitive skin, they don't mix up the scent with other products that end up making me dizzy.
Verdict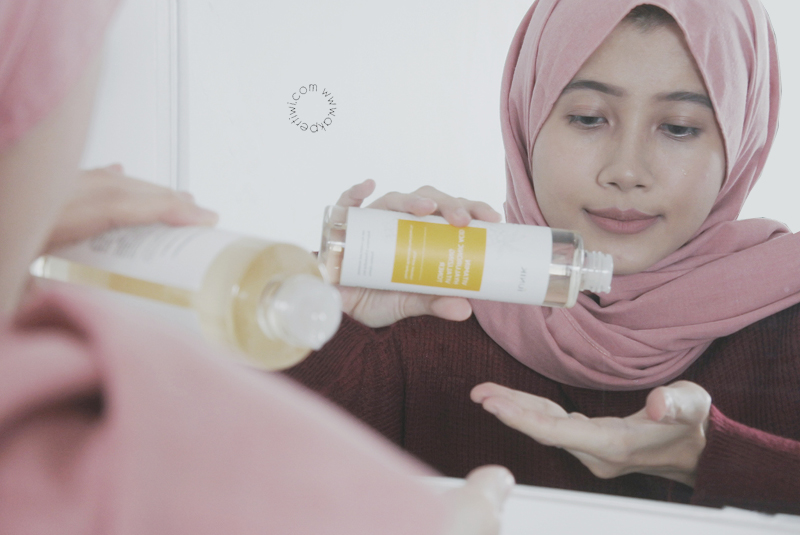 After using it for about 2 weeks, my skin feels softer and more supple. Those product really does a good job on hydrating my skin because I can feel the texture of my skin is smoother and better than before, which felt rough because it was dry.
As for the brightening effect, I feel that my skin is not that skintone, but it's brighter because it's not dull and dry.
I will recommend these two products for those of you who have dry and sensitive skin, because apart from being gentle on the skin, iUNIK Vitamin Hyaluronic Acid Vitalizing Toner & Propolis Vitamin Synergy Serum is also very rich and packed with nutrients needed by your skin.
As I use them, both of them are suitable when used together with a light moisturizer, for example, one with a gel cream texture. Oh yes, I found another unique one, iUNIK Vitamin Hyaluronic Acid Vitalizing Toner & Propolis Vitamin Synergy Serum. Immediately after being applied, it becomes emulsifying on the skin, aka it looks like a white-white color but after a while it also absorbs into the skin. If you look at the ingredient list, the toner does contain oil, so it's not surprising that it's emulsifying, especially when I use it on wet skin after washing it first.
Overall, I am very satisfied with the performance of iUNIK Vitamin Hyaluronic Acid Vitalizing Toner & Propolis Vitamin Synergy Serum. I guess I will use it for a long time until my skin is really good again from a rather 'pathetic' condition. Have you ever tried products from iUNIK? Comment below, yes.
Review Link: https://www.akpertiwi.com/2021/04/iunik-vitamin-hyaluronic-acid-vitalizing-toner-propolis-vitamin-synergy-serum.html