[Review] My all time, hand down, favorite serum! Beta-glucan power moisture serum from iunik.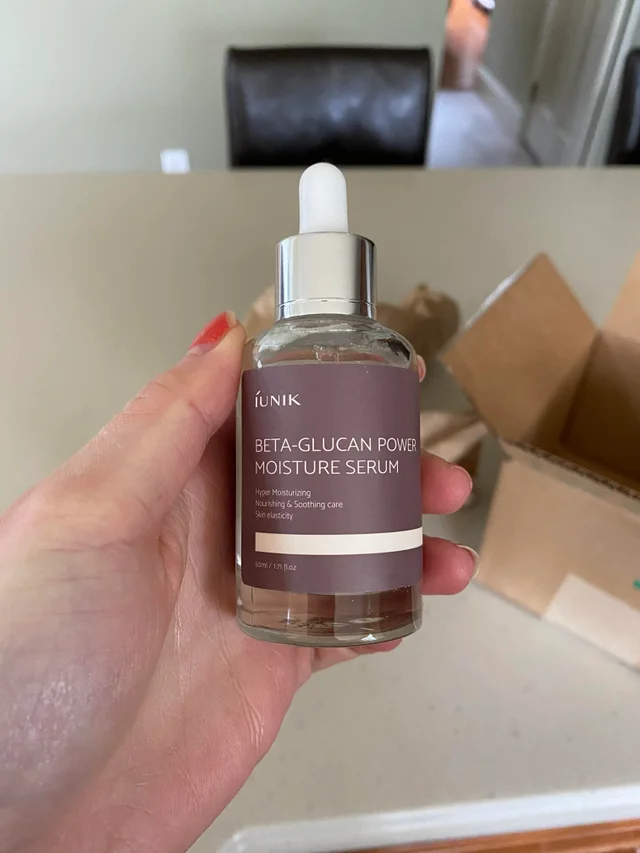 I didn't realize how much I needed this stuff until it was gone. It's been 2 weeks without it and my skin is dry, itchy, and more inflamed.
My order from Stylevana is taking forever to come, and I made an amazing discovery Friday night (11pm actually) - iHerb has this wonderful serum! I placed an order and just received it this morning (Sunday at 11am). That's a day and a half... holy cow. I am elated.
This serum contains 98% beta glucan and is very moisturizing on my dry skin. It is kind of viscous but applies evenly and sinks in quickly... like super quickly. I pat and press for only 10 seconds and it's absorbed. But the best part is that my skin stays hydrated and moisturized! Normally my skin will be dry a few minutes after serum application but not with this. I use it twice a day, while my skin is still damp.
I can't use HA toners or serums, they never work for me even if I apply to a face that's dripping wet, my skin gets visibly dry. So this is an excellent substitution that I recommend if HA doesn't work for you for whatever reason.
10/10, HG, will always repurchase!
Review Link : https://www.reddit.com/r/AsianBeauty/comments/n8gocc/review_my_all_time_hand_down_favorite_serum/