[Instagram Review] iUNIK Tea Tree Relief Toner & iUNIK Propolis Vitamin Synergy Serum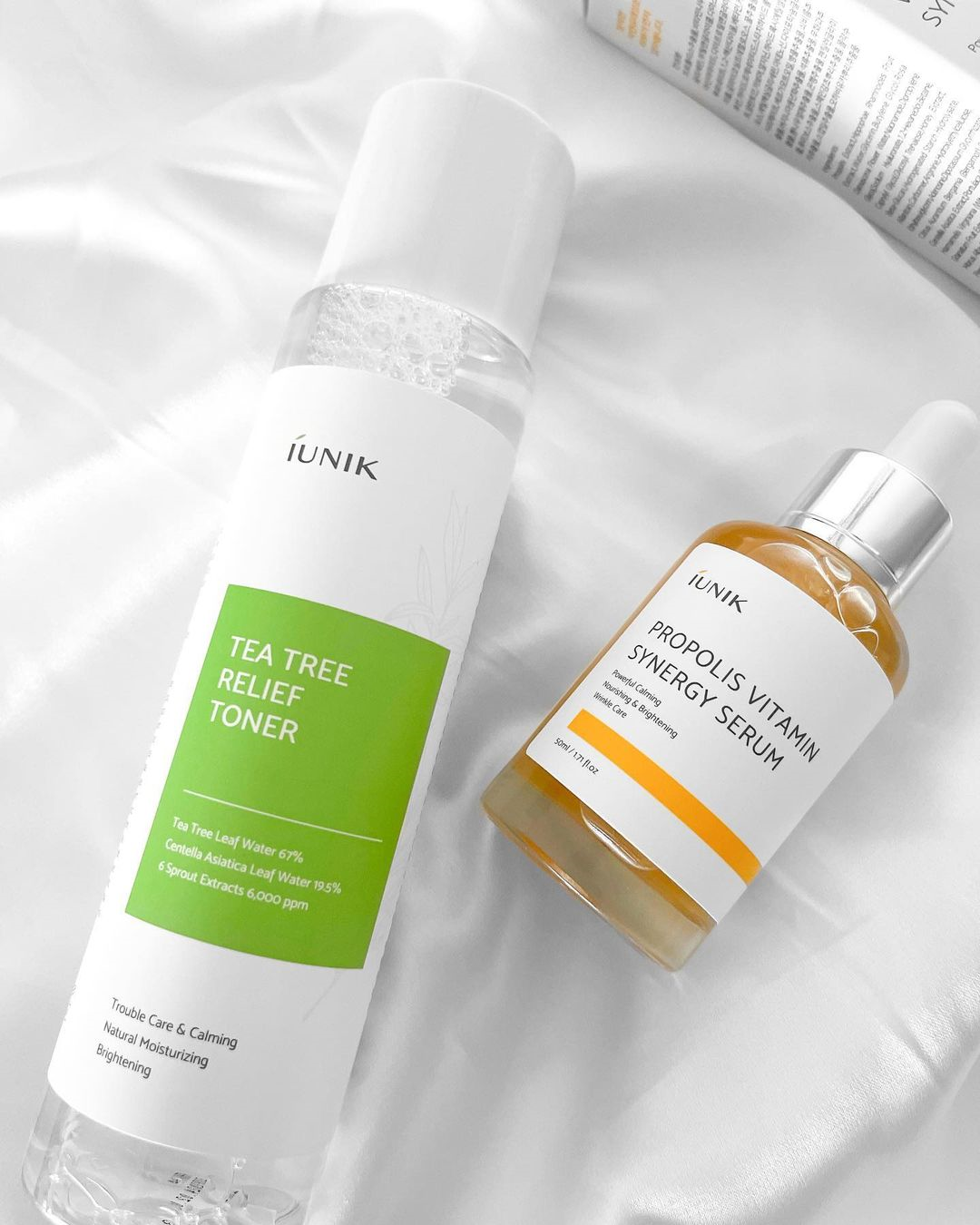 𝗧𝗲𝗮 𝗧𝗿𝗲𝗲 𝗥𝗲𝗹𝗶𝗲𝗳 𝗧𝗼𝗻𝗲𝗿
if you suffer from sensitivity & are worried about toner drying out your skin, there are certain skin soothers to look out for in a toner. this toner is brimming with tea tree, known for being calming & antibacterial. it's particularly well suited to oily & acne-prone skin like mine, as one sweep over the face removes every last trace of pore-clogging grime. it includes a combo of niacinamide, allantoin & centella asiatica leaf water as well - to reduce any irritation, treat hyperpigmentation & minimise fine lines and wrinkles. the consistency of the toner looks just like water at first glance but adding this to my routine has been a complete game-changer. my skin feels satisfyingly clean, soft & prepped for my next steps.

𝗣𝗿𝗼𝗽𝗼𝗹𝗶𝘀 𝗩𝗶𝘁𝗮𝗺𝗶𝗻 𝗦𝘆𝗻𝗲𝗿𝗴𝘆 𝗦𝗲𝗿𝘂𝗺
the formula contains an impressive 70% propolis extract, making it one of the most concentrated propolis serums on the market. despite the incredible concentration, its lightweight texture is perfect for layering under the rest of your skincare products, day or night. in this formula, the moisturising benefits from propolis are supercharged by the addition of humectants like glycerin, while sea buckthorn work to soothe (& further hydrate) dry, aggravated skin. it's a safe bet for just about any skin type & it'll instantly make your face feel rejuvenated.

if the propolis product doesn't list an exact percentage, just make sure the propolis is listed near the top of the ingredients list, rather than towards the bottom - which means you'll be more likely to experience the benefits of this skin-repairing ingredient.
Original Link : https://www.instagram.com/p/CPI0HT5HvoO/?utm_source=ig_web_copy_link