[iHerb] 5 Targeted Solutions for Common Skincare Problems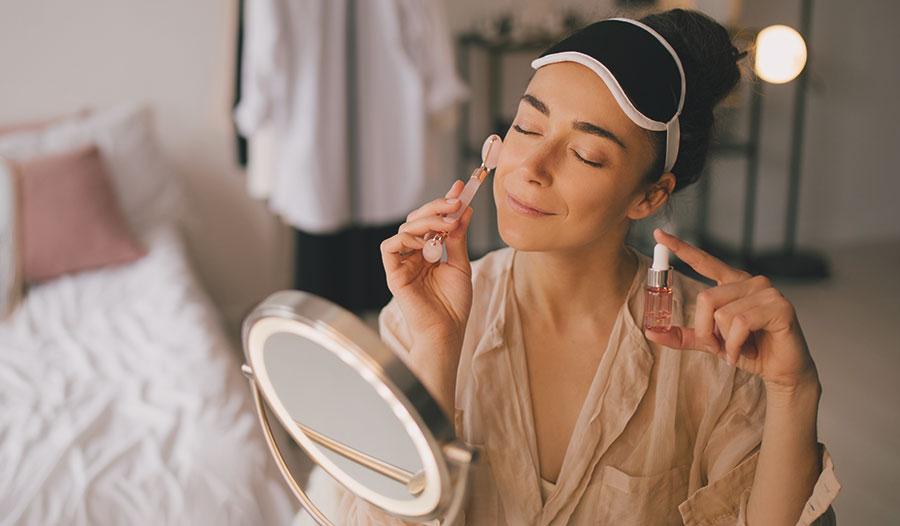 It is certainly no understatement to say that skincare has completely exploded in the beauty world over the past year. With the rise of indie skincare brands, "skinfluencers," and dermatologists dropping skin science on social media, more of us than ever are taking note of our skin and how we should best be caring for our largest organ.
If you're someone who has recently started to focus on your skin, you've probably taken a good look at your face and wondered where to even begin with addressing some of the concerns you have. You are not alone! Information is abundant and it can be overwhelming for sure. Whether you are struggling with acne breakouts, wondering why your complexion seems dull or trying to control flaky skin, this post will help you address these common skincare problems with targeted skincare solutions and products, all within a layered skincare routine. We'll dive into layering skincare products for different concerns, and five ingredients that can help target different skin issues.
‌‌‌‌Layering Skincare Products: What Is That?
As a beauty enthusiast who started her skincare journey in the skincare capital of Seoul, South Korea, I quickly learned through trial and error that the most effective approach to caring for the skin is all about layering. The skincare philosophy I learned from Korean brands and Seoul spas is rooted in ritual and results—it is targeting your skin issues with specific ingredients or formulas and enjoying the routine of it.
With the abundance of skincare solutions available on the market, you can identify your areas of concern, try targeted skincare formulas with effective ingredients, and layer these products to customize your skincare routine. By layering whatever your skin needs, you can tailor the skincare you use to get the results you are looking for. For example, you may use a toner to address your dehydrated skin, followed by a serum to help with your breakouts, and so on. Just remember—there are no hard-and-fast rules! You can do a 3-step routine or a 10-step routine, use one serum or three, it does not matter. What matters is that you are being mindful of why you are using products, learning which ingredients work for your skin type, and hopefully enjoying the process while you're at it!
‌‌‌‌Top 5 Skincare Solutions
There are a handful of common skin problems that many of us face (pardon the pun!), and proven ingredients and formulas to help with them. We are going to look at five different ingredient solutions to typical skincare concerns, as well as some of the unique, solution-based skincare products available to help. This will allow you to select the formulas that best align with your needs. Let's get into these skincare solutions and how they can help you!
Glycolic Acid
The first solution we're going to look at is one of the top ingredients for helping with flaky, dull skin: glycolic acid. Glycolic acid is part of a group called alpha-hydroxy-acids, and it's an exfoliating ingredient. By simply patting a glycolic acid toner or serum into your face, it works to slough off the outer layers of skin in a gentle, non-abrasive way and reveals bright, fresh skin beneath. No scrubbing is needed here!
Skincare concerns it can help address:
Uneven texture or bumps
Hyperpigmentation
Dryness and flaking
Dull complexion
Salicylic Acid
Yes, a second acid exfoliating ingredient is on this skincare solutions list! BHAs, or beta-hydroxy acids, are a tried and tested, reliable ingredient group for helping tackle numerous common skincare concerns. Salicylic acid is a very popular BHA that works to exfoliate, or "unclog"," the pores. Whereas glycolic acid tends to work on the surface of your skin, salicylic acid cuts through oil so it can work deeper within skin layers.
Skincare concerns it can help address:
Excess sebum
Blackheads or whiteheads
Large pores
Propolis
Give me the glow! Over the years, I have continually turned to propolis serums layered into my evening routine to ensure I wake up with dewy, radiant skin. Propolis is a natural ingredient created by bees, combining beeswax and tree sap, and known for its antioxidant, anti-microbial, and anti-inflammatory properties. It is also beautifully moisturizing and is beneficial for a wide range of skin types and issues!
Skincare concerns it can help address:
Dullness
Dryness
Acne
Premature aging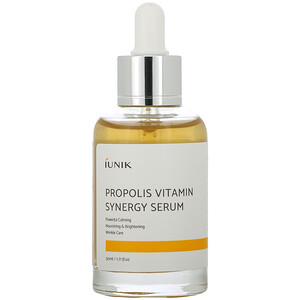 A propolis serum I have continually turned to since 2018 is the iUNIK Propolis Vitamin Synergy Serum, and Korean brand iUNIK now has a whole range of propolis-based products. The propolis serum contains 70% propolis extract and the light, runny consistency smooths over skin and absorbs quickly. It is easy to incorporate into your routine both morning and evening and revitalizes the skin for a radiant glow.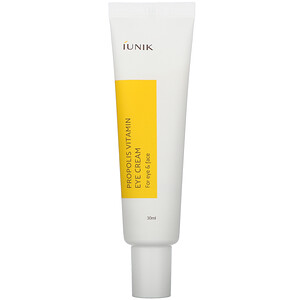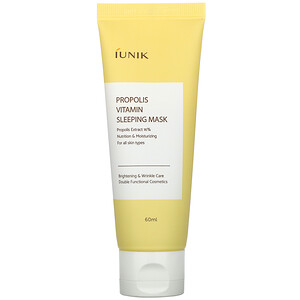 You can layer the Propolis Vitamin Eye Cream and Propolis Vitamin Sleeping Mask over the serum as part of your evening routine. The eye cream contains 40.5% propolis extract and is designed to reduce fine lines, improve skin elasticity, and brighten the eye area. Although an intensive formula, it quickly sinks into the skin to leave the eye area smooth and moisturized. The sleeping mask contains 16% propolis extract and Centella Asiatica extract, often used in Korean skincare for soothing and calming the skin, alongside an abundance of moisturizing ingredients. It's a thicker creamy texture that seals your routine, ensuring your skin absorbs the moisture and goodness overnight.
Snail Mucin
Snail mucin was one of my first ingredient explorations when I moved to South Korea, and I have never looked back. Snail mucin is used on the skin for numerous reasons, including repairing, calming, and moisturizing the skin. I find it speeds up the healing process from active breakouts and reduces redness and irritation. It's a reliable skincare ingredient and is found in numerous different products.
Skincare concerns it can help address:
Redness/sensitivity
Dryness
Acne healing
The iUNIK Black Snail Restore Serum is a powerhouse serum containing 70% black snail extract, alongside other highly effective ingredients such as Centella Asiatica, niacinamide, hyaluronic acid, and more. It has a slightly stretchy, runny consistency that just sinks into the skin. This concentrated serum can help nourish, soothe, heal, and brighten the skin and is highly rated by skincare lovers.
Hyaluronic Acid
Hyaluronic acid, unlike the two acids we discussed earlier, is not an exfoliant. It's a humectant, meaning it draws water into the skin to keep it hydrated. Maintaining skin hydration is vital for a healthy, glowing complexion and helps your skin absorb your other skincare products.
Skincare concerns it can help address:
Dehydrated skin
Dullness
Dry, sensitive skin
Fine Lines
Tired-looking skin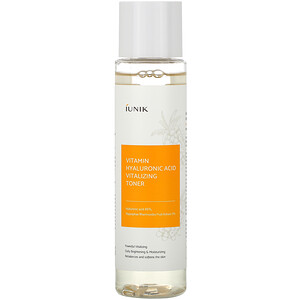 There are a wide range of hyaluronic acid products, including Korean skincare options. The iUNIK Vitamin Hyaluronic Acid Vitalizing Toner contains 45% hyaluronic acid and is best known for deeply hydrating, plumping, and softening the skin. It is slightly thicker in consistency than a typical toner and can be used daily.
‌‌‌‌Care For Your Skin And Forget About The Filters
The bottom line is that skin will never be as perfect as an Instagram filter (and neither should it!). But using these targeted skincare solutions specific to your skin concerns will enable you to care for your skin the way it needs to be cared for! You can use this guide as a reference point for which solutions may work well for your issues. Knowledge is power and the more you know about your skin and the solutions that will work for you, the more effectively you can customize your skincare routine for the best results. Treating and nourishing our real, unfiltered skin has slowly become a central focus of our beauty routines, and in my opinion, that should be celebrated.
DISCLAIMER: This blog is not intended to provide diagnosis, treatment, or medical advice. Content provided on this blog is for informational purposes only. Please consult with a physician or other healthcare professional regarding any medical or health-related diagnosis or treatment options. Information on this blog should not be considered as a substitute for advice from a healthcare professional. The claims made about specific products throughout this blog are not approved to diagnose, treat, cure, or prevent disease.
Blog Source : https://www.iherb.com/blog/beauty-news/targeted-solutions-skincare-problems/1339