[Instagram Review] iUnik Beta-Glucan Daily Moisture Cream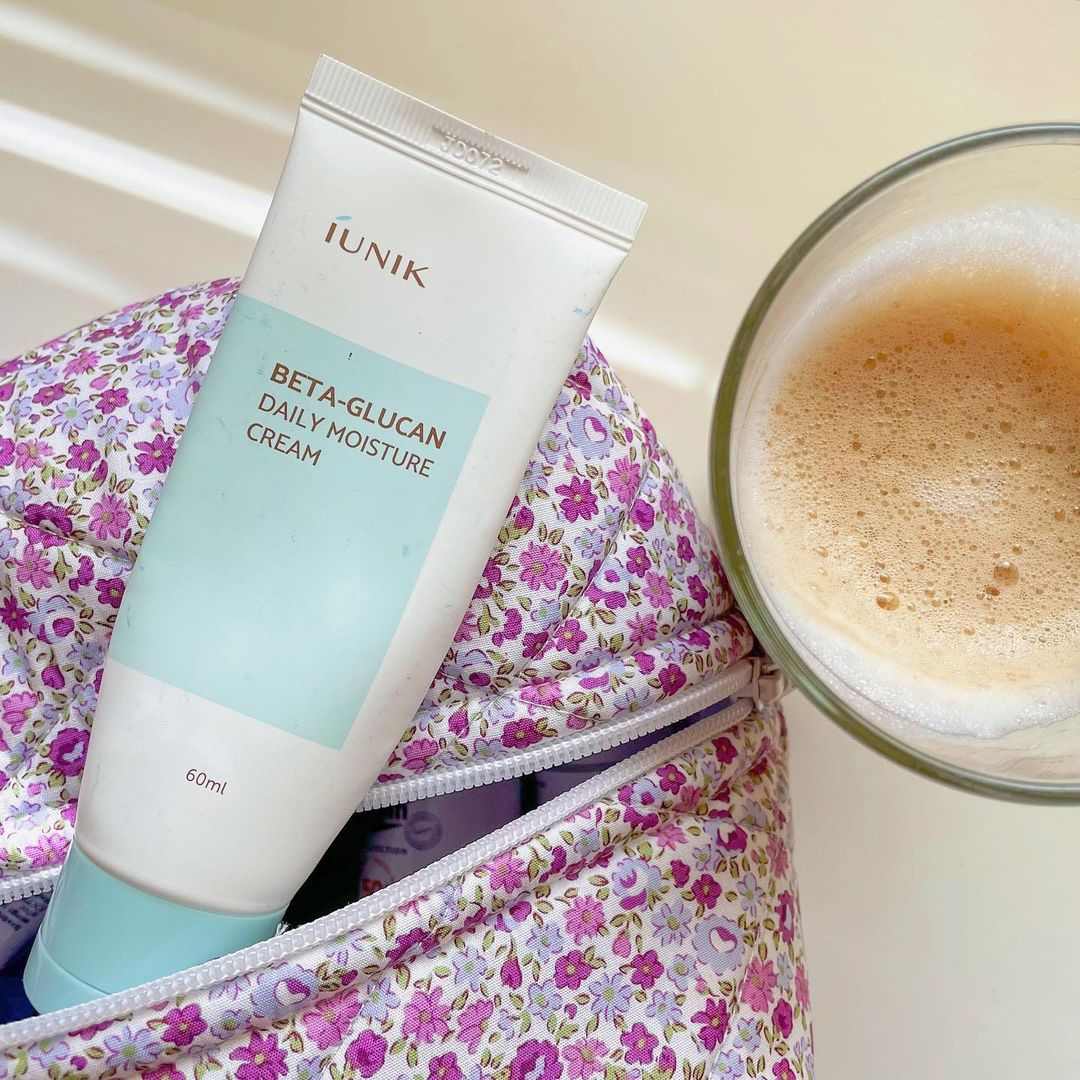 🌊 iUnik Beta-Glucan Daily Moisture Cream 🌊
Tale vlažilna krema me je res pozitivno presenetila. Priporočila bi jo suhi in dehidrirani koži s poškodovano bariero, ker kožo zelo lepo vlaži in pomirja. V poletnih mesecih rada posežem po lažjih kremah, ki se hitro vpijejo a kljub temu nudijo dolgotrajno vlaženje. Po nanosu imam občutek, kot da sem uporabila nek smoothing primer, kajti kožo naredi res neverjetno mehko 🧸.
𝐄𝐍: Ladies and gents, this is the first product i tried from @iunik_official and let me tell you… it is absolutely wonderful.
If you have dry or even dehydrated skin, this is a good option for the summer because it's not too heavy and it's perfect to layer underneath your SPF. It soothes irritated skin after a long day in the sun ☀️. It instantly sinks into the skin yet leaves it feeling super moisturized. It also sits great underneath makeup, giving this sort of smoothing effect and it makes your skin velvet soft 😍.
🧪 𝐊𝐞𝐲 𝐢𝐧𝐠𝐫𝐞𝐝𝐢𝐞𝐧𝐭𝐬 🧪
🌱 𝐁𝐞𝐭𝐚-𝐆𝐥𝐮𝐜𝐚𝐧
Pripomore k ohranjanju zdrave kožne bariere ter nudi dolgotrajno vlaženje.
- 𝘣𝘢𝘳𝘳𝘪𝘦𝘳 𝘴𝘵𝘳𝘦𝘯𝘨𝘵𝘩𝘦𝘯𝘪𝘯𝘨, 𝘮𝘰𝘪𝘴𝘵𝘶𝘳𝘪𝘻𝘦𝘴 𝘵𝘩𝘦 𝘴𝘬𝘪𝘯, 𝘴𝘰𝘰𝘵𝘩𝘪𝘯𝘨 𝘱𝘳𝘰𝘱𝘦𝘳𝘵𝘪𝘦𝘴
🌱 𝐂𝐞𝐧𝐭𝐞𝐥𝐥𝐚 𝐚𝐬𝐢𝐚𝐭𝐢𝐜𝐚 𝐚𝐧𝐝 𝐀𝐥𝐨𝐞 𝐯𝐞𝐫𝐚 𝐞𝐱𝐭𝐫𝐚𝐜𝐭
Kožo pomirjata.
- 𝘴𝘰𝘰𝘵𝘩𝘪𝘯𝘨 𝘱𝘳𝘰𝘱𝘦𝘳𝘵𝘪𝘦𝘴
🌱 𝐍𝐢𝐚𝐜𝐢𝐧𝐚𝐦𝐢𝐝𝐞
Pomaga pri obnovi kožne bariere, deluje posvetlitveno in proti rdečici ter nadzira prekomerno izločanje sebuma. Zmanjšuje opaznost razširjenih por.
- 𝘢𝘯𝘵𝘪-𝘢𝘤𝘯𝘦, 𝘴𝘬𝘪𝘯-𝘣𝘳𝘪𝘨𝘩𝘵𝘦𝘯𝘪𝘯𝘨, 𝘳𝘦𝘥𝘶𝘤𝘦𝘴 𝘴𝘦𝘣𝘶𝘮 𝘱𝘳𝘰𝘥𝘶𝘤𝘵𝘪𝘰𝘯 𝘢𝘯𝘥 𝘵𝘩𝘦 𝘢𝘱𝘱𝘦𝘢𝘳𝘢𝘯𝘤𝘦 𝘰𝘧 𝘭𝘢𝘳𝘨𝘦 𝘱𝘰𝘳𝘦𝘴, 𝘣𝘢𝘳𝘳𝘪𝘦𝘳 𝘴𝘵𝘳𝘦𝘯𝘨𝘵𝘩𝘦𝘯𝘪𝘯𝘨
🌱 𝐑𝐞𝐝 𝐅𝐫𝐮𝐢𝐭𝐬 𝐂𝐨𝐦𝐩𝐥𝐞𝐱 🍓🍒
Kompleks izvlečkov rdečega sadja krepi kožno bariero in deluje antioksidativno.
- 𝘣𝘢𝘳𝘳𝘪𝘦𝘳 𝘴𝘵𝘳𝘦𝘯𝘨𝘵𝘩𝘦𝘯𝘪𝘯𝘨, 𝘴𝘰𝘰𝘵𝘩𝘪𝘯𝘨, 𝘢𝘯𝘵𝘪𝘰𝘹𝘪𝘥𝘢𝘯𝘵
💸 Would I repurchase it? Yes!
Living in a warmer climate can impact your skin type, making it shift from dry to slightly more oily during summer, however, this one still works for me as I find it to be more of a lightweight moisturizer! 🥰
Review Source: https://www.instagram.com/p/CR3WIE1F749/?utm_source=ig_web_copy_link