Review: iUNIK Beta-Glucan Power Moisture Serum
Not familiar with iUNIK? Me too! Here's a brief brand overview from K Beauty Australia: iUNIK is a minimalist Korean skincare brand that focuses on using only effective skincare ingredients in all of their products. With clean and simplistic packaging, iUNIK aims to provide generous sized products at reasonable prices.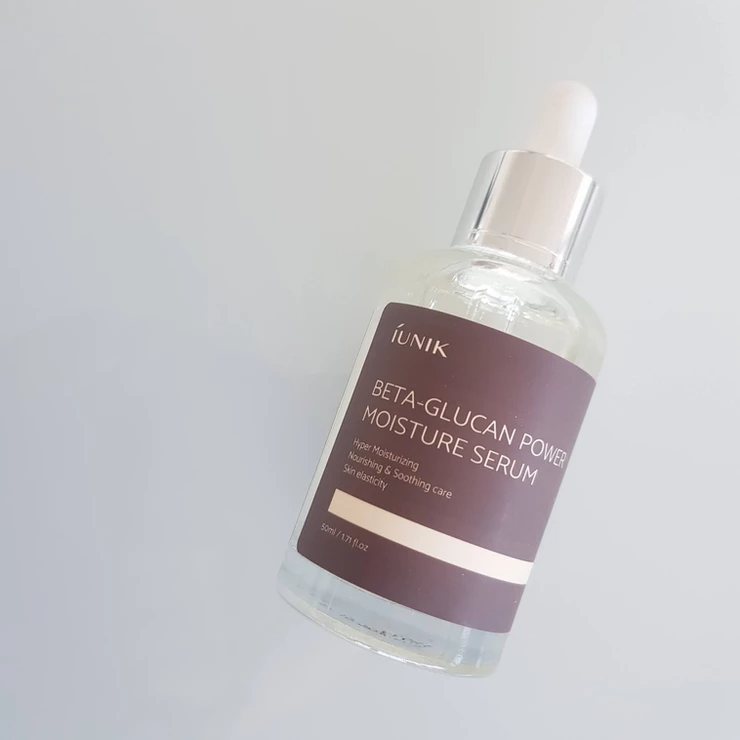 Let's take a closer look...
Minimalist - tick. The serum contains "Beta-glucan fermentation solution 98%". Apart from beta-glucan, there are only 4 other ingredients: butylene glycol (texture enhancer), 1,2-hexanediol (humectant and preservative), sodium PCA (bio-natural hydrating agent) and ethylhexylglycerin (humectant and possibly preservative).
Generous sized - tick. It comes in a 50 mL bottle. I have been using a very generous amount (~a quarter to a third of a dropper) twice a day for 6 weeks and I am about 40% through a bottle, which means 1 bottle lasts about 3.5 months.
Reasonable prices - double tick. Priced at $29.95 it is one of the most affordable serums in my beauty cupboard(s).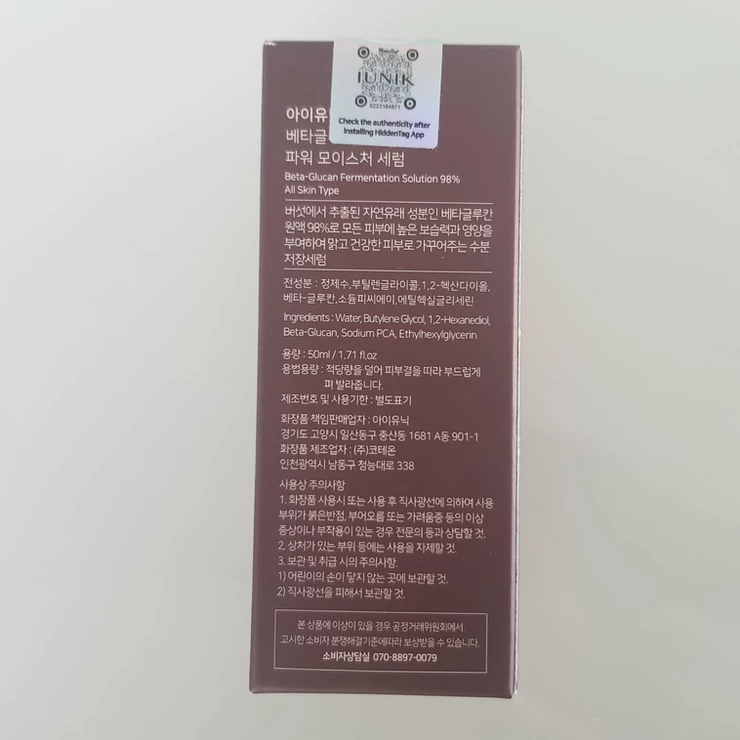 iUNIK Beta-Glucan Power Moisture Serum ingredients
Beta-glucan
Beta-glucan is predominantly a skin humectant (binds water) which also has antioxidant and soothing properties. It is a polysaccharide (chains of sugars), which can be sourced from cell walls of yeast, plants, fungi, oats or micro-organism fermentation. Internal effects of beta glucans have been very extensively studied, but topical effects have only gained traction rather recently. Studies have shown that it can penetrate deeply into skin and improve fine lines and wrinkles.
Beta-glucan VS hyaluronic acid
Hyaluronic acid is an extensively proven skin humectant, also comes in the form of polysaccharide. Multiple online articles claim that at the same concentration, beta-glucan can hold 20% more water than hyaluronic acid (see examples here and here). On iUNIK's official website, it also claims (with a graph) that, based on "lab measurements", 1% beta-glucan is 20% more superior than 1% hyaluronic acid solution in its "water-storing" capacity. (It is a rather strange graph because it shows no difference between the water-retention abilities of hyaluronic acid and "control", which is clearly suspicious as hyaluronic acid has been extensively proven to be a water-retainer). Despite my entire Saturday night research efforts, I could not locate this particular study, which means for now I am taking this comparison with a grain of salt.
Also notable is that, hyaluronic acid naturally exists in the body, whereas beta-glucan exists in nature but is "foreign" to human skin.
Because of my skepticism, this serum really needs to perform well to win me over - and it does!
My experience
Texture / consistency
It has the perfect consistency that I have always wanted in a serum - water-based, viscous but not sticky. Absorbed within seconds, gives skin a slightly healthy glow and a silky feeling. Very soothing and calming to use. Easy to layer with other skincare products with no pilling. It seems to form an invisible film on skin (and it is not a criticism), so when I use multiple serums I use this last and immediately before moisturiser.
Due to the viscosity, the maximum amount I can pump into dropper is about a quarter to a third way up the dropper, and that's plenty to use for face and neck.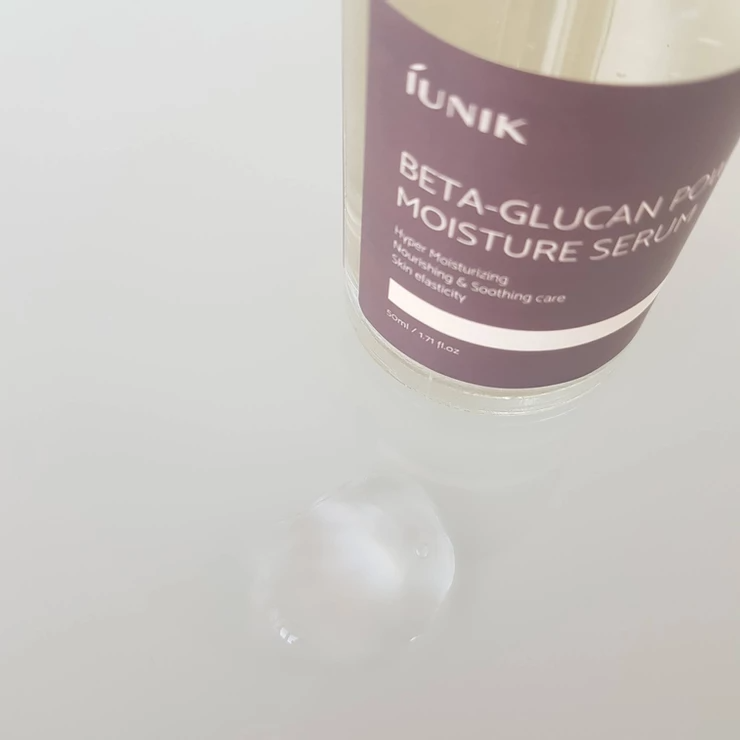 iUNIK Beta-Glucan Power Moisture Serum
Scent
None.
Hydration
My skin has always been prone to dehydration. I started this serum in winter and it has boosted my skin moisture in a matter of days: skin tightness went away and looked more plumped.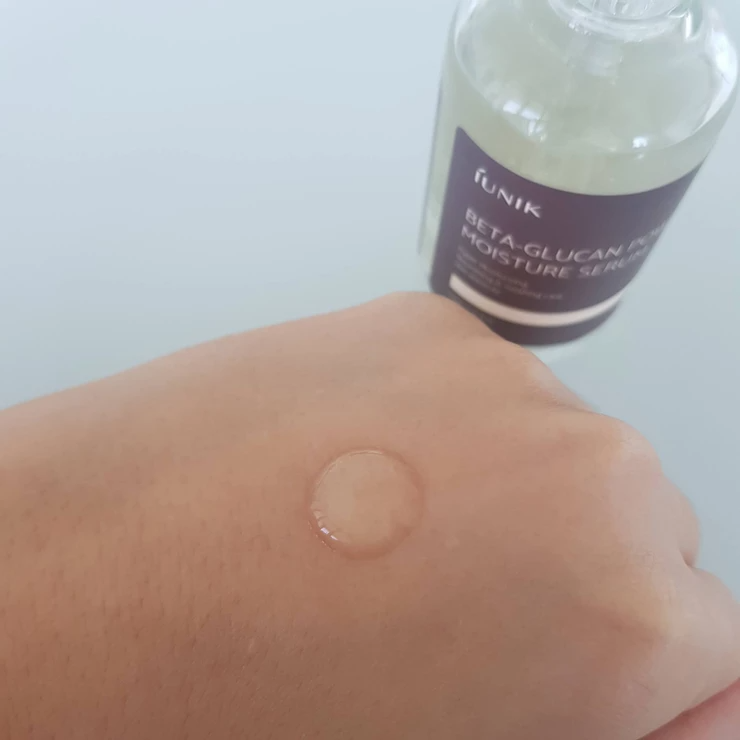 iUNIK Beta-Glucan Power Moisture Serum
Is it better than hyaluronic acid serum?
I love this iUNIK serum, so as my two other hyaluronic acid-based hydrating serums. The clear advantage here is the affordability of iUNIK serum (60c per mL VS $3.2 per mL and $1.48 per mL respectively, although I acknowledge that the latter products contain more active ingredients). In terms of hydrating my skin, beta-glucan is at least as good as hyaluronic acid.
At this price, I cannot fault this hydrating serum.
Summary
Pros
Very hydrating

Lightweight

Absorbs quickly

Skin-soothing

Instantly improves skin texture

Inexpensive
Cons
Single dimension - for hydration only

Glass bottle - don't drop it
Review Link: https://www.stella-lee.com.au/post/review-iunik-beta-glucan-power-moisture-serum-k-beauty