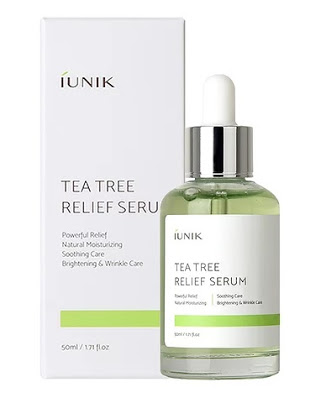 Product Description
iUNIK Tea Tree Relief Serum is a serum infused with Tea Tree and Centella Asiatica Leaf Water to soothe and heal skin for a clearer complexion.
Benefits :
1) Skin Soothing : Contains 67% Tea Tree Leaf instead of water to help calm and moisturize the skin.
2) Blemish Care : Contains 19.5% Centella Asiatica Leaf to help fade acne scars.
3) Nutrition : Patented 6-sprout extract provides abundant moisture and nutrition.
4) Brightening & Wrinkle Care : Contains studied ingredients such as Niacinamide and Adenosine to brighten skin tone and improve appearance of wrinkles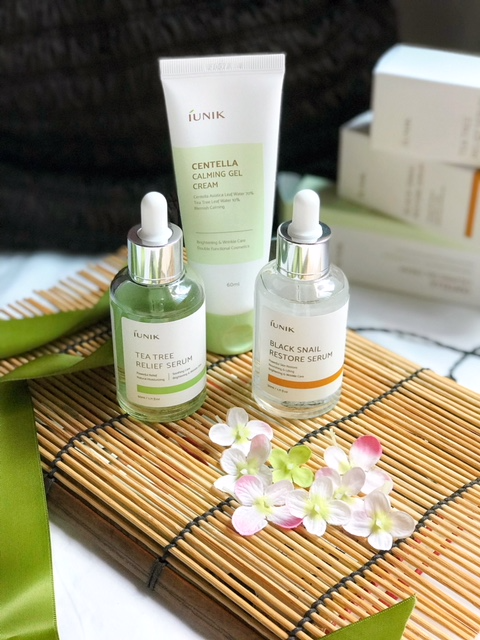 Korean beauty brand iUNIK ( Ideal Unique Natural Ingredients Knowhow ) prides itself on using only hypoallergenic ingredients for its products where its motto is to make safe and trustworthy skincare products with honest ingredients, honest price and honest distribution.
I personally have a soft spot for the brand as the lightweight textures from their serums and gel moisturizers are just perfect for Singapore humid weather. Check out my previous reviews on Iunik Vitamin Hyaluronic Acid Vitalizing Toner, Iunik Beta-Glucan Power Moisture Serum and Iunik Beta-Glucan Daily Moisture Cream where both Iunik Beta-Glucan Power Moisture Serum and Iunik Beta-Glucan Daily Moisture Cream are also available on Zhabalang.
Packaging, Scent and Texture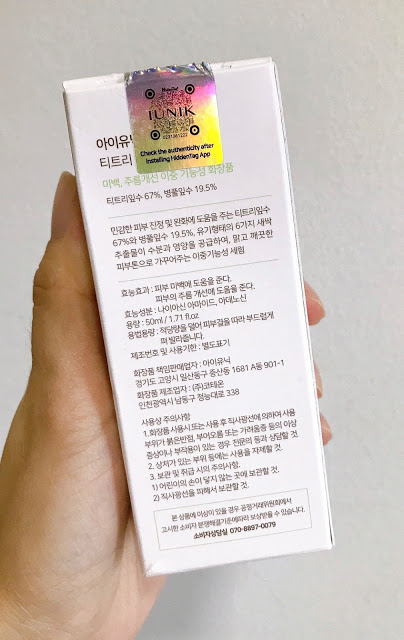 Authenticity Code

Each Iunik product comes with an authenticity checker that also acts as a seal on Iunik's box packaging where you can check if your product is genuine.
Just download Hidden Tag app from App Store, open the app and scan the anti-counterfeit sticker found on the box packaging using the Authentication Scan.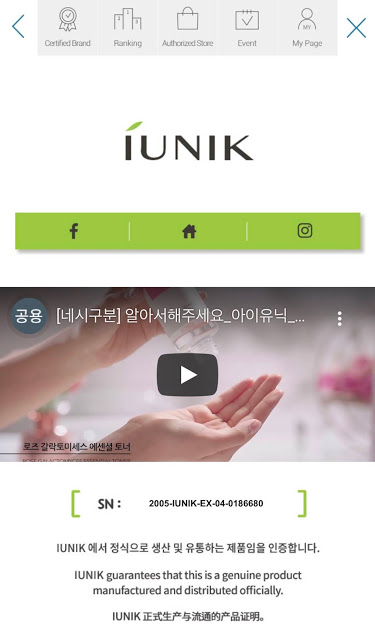 The above image tells me that my iUNIK Tea Tree Relief Serum is a genuine product!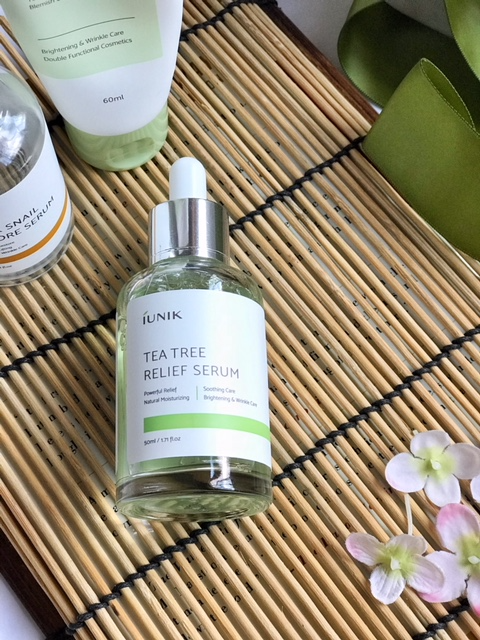 iUNIK Tea Tree Relief Serum comes in a clear glass dropper bottle with 50ml of light green watery contents. The texture is unbelievably lightweight and even though it may appear as light green ( due to tea tree extract ) in the bottle, it actually applies like clear watery fluid with a subtle cooling sensation. I also did not detect any scent to it which is definitely great for those sensitive to fragrances. I typically use about 1 ~ 2 drops of the serum.
How To Use :
Using the dropper, gently apply an appropriate amount onto your face and let it absorb.
Performance and Ingredients
A lightweight serum infused with 67% Tea Tree Leaf Water and 19.5% Centella Asiatica Leaf Water to soothe and heal skin for a clearer complexion, Iunik Tea Tree Relief Serum has such a lovely thin runny consistency which I absolutely loved for how well it glides and absorbs pretty quickly into skin, leaving my skin soothed and calmed without any stickiness.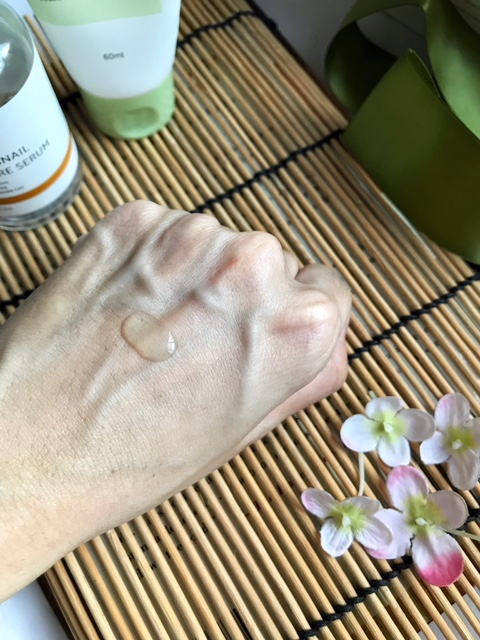 Here's how I usually use Iunik Tea Tree Relief Serum :
1) On red, dry and flaky patches at times : Helped to soothe and calm the redness. Minimize the issues and 80% "recovered' in 2 days. I dab it on the patches twice a day and use it prior to Iunik Centella Calming Gel Cream to speed up the "recovery" process.
2) On the occasional zit : Helped to soothe, moisturize and calm the skin. Redness was reduced and zit healed faster.
3) All over the face as a typical serum
That said, Iunik Tea Tree Relief Serum does not provide sufficient hydration to my dehydrated skin but the issue can be easily rectified with a good hydrating moisturizer.
In terms of ingredients, I am happy to report that the first ingredient on the list is Tea Tree Leaf Water and not water, like most products in the market! This simply meant that the concentration of Tea Tree Leaf Water is high. Adding on to that, all their ingredients have a low hazard score of 1 ~ 2 in terms of health, ecotoxicity and/or contamination concerns, according to EWG and Iunik.
Iunik Tea Tree Relief Serum contains the following key ingredients :
67% Tea Tree Water : An antiseptic ingredient with anti-inflammatory, antifungal and antibacterial properties. It poses a strong barricade against acne, protecting the skin from polluting and infecting agents. It comforts the irritations and itches and lightens the dark spots and acne scars, bringing back the youthful look to the skin.
According to this research study, Tea Tree has demonstrated to contain antimicrobial and anti-inflammatory properties.
19.5% Centella Asiatica Leaf Water : Also known as Gotu Kola, this ingredient works wonders on tired and dull skin. It helps boost collagen by adding firmness to sagging skin. A research study demonstrated that it is effective in improving treatment of small wounds, stimulating collagen and improving photo-aging skin.
Niancinamade and Adenosine : Brightening and wrinkle-improvement benefits. This research study has demonstrated that there are a variety of significant skin appearance improvement effects with topical application of Niancinamade such as reductions in fine lines and wrinkles, hyperpigmented spots, red blotchiness, and skin sallowness (yellowing). In addition, elasticity (as measured via cutometry) was improved.
6 sprout vegetable extracts ( Wheat, Cabbage, Broccoli, Grapeseed, Alfala and Radish ) : For abundant moisture and nutrition to restore smooth, supple skin. Enriched with vitamins they not only provide excellent nourishment and moisture, but also form a strong protective shield against infection.
The breakdown of the ingredients can be found on CosDNA.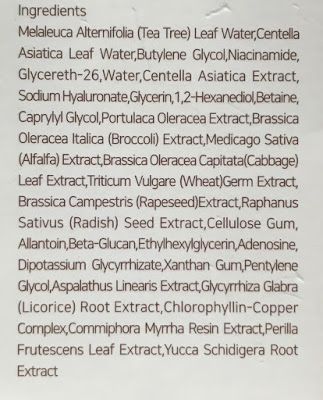 ⠀⠀⠀⠀⠀⠀⠀⠀
Conclusion
To conclude, Iunik Tea Tree Relief Serum has a pretty lightweight texture with not much of a scent. If you are a fan of layering serums then a lightweight texture like this would be great for layering a heavier serum on top.
I like that the application is not heavy but calming and soothing, which would be much welcomed for blemish-prone, acne and irritated skin. That said, Iunik Tea Tree Relief Serum may not provide sufficient hydration for those with dehydrated or dry skin but you can always top up with a good hydrating moisturizer or layer an additional hydrating serum.
Review Link: https://reviewgalore.blogspot.com/2020/09/review-iunik-tea-tree-relief-serum.html