[REVIEW] iUNIK Calendula Complete Deep Cleansing Oil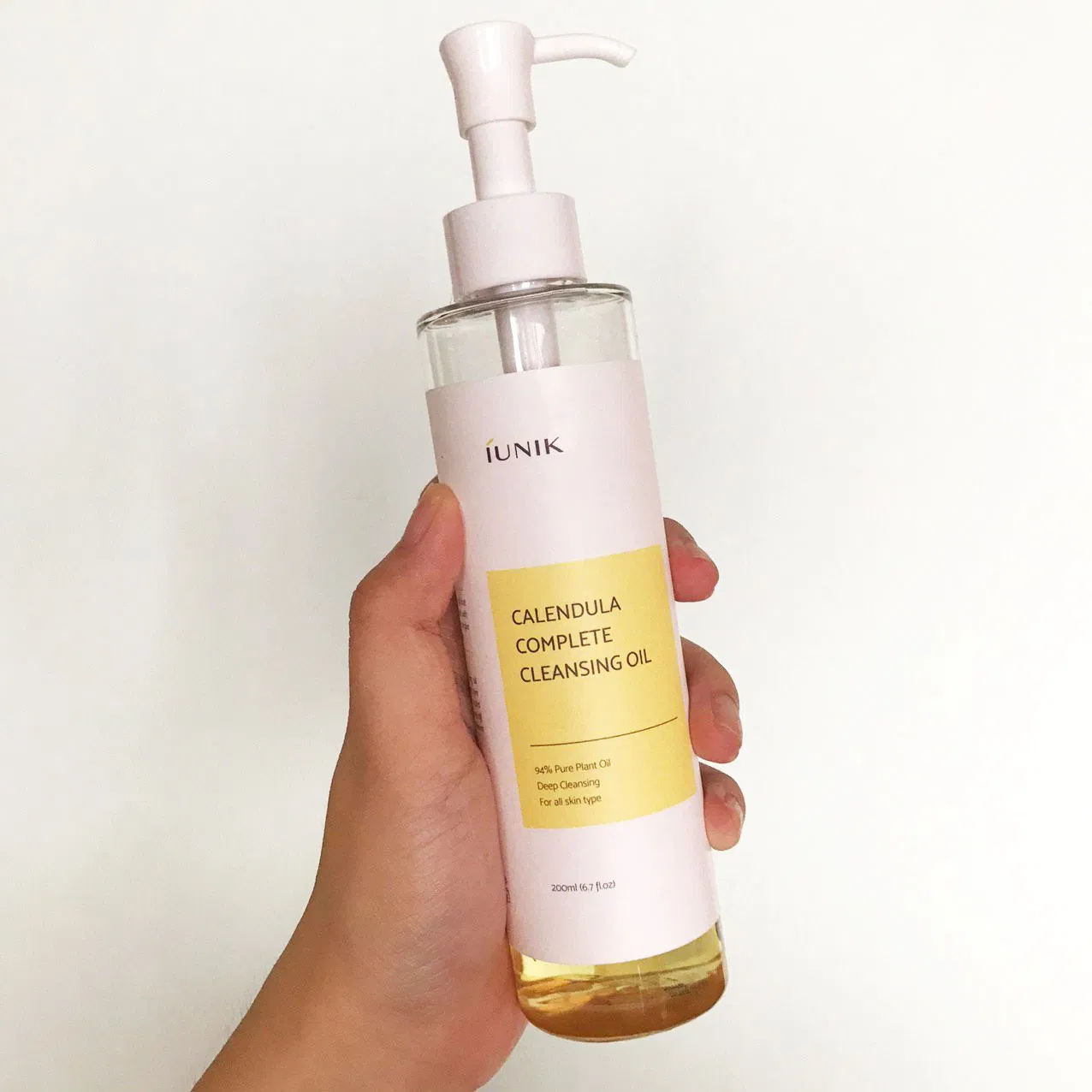 I've been double cleansing for as long as I remember, but micellar water had always been my go-to because I simply couldn't imagine cleansing my oily face with more oil.
I did learn that cleansing with oil is actually even better for oily skin, but when I did give it a shot with shu uemura's cleansing oil, a supposed holy grail, all hell broke loose on my skin and I never went back to it again.
That being said, I was never fully impressed with my existing routine of using micellar water & foam cleansers, so I decided to give oil cleansing another shot again with a different product to see if things might be different.
---
Product Description
A deep cleansing oil infused with 94-percent plant oils, as well as calendula flower extract to remove all traces of makeup and impurities, while leaving the skin feeling soothed and moisturized.

All-in-one Cleansing Oil enriched with 94% pure plant oil and Calendula extract offers powerful removal for point makeup and sunscreen in just one step

Offer deep cleansing effect with effective pore care to remove makeup remnants and blackheads for clean, smooth skin express

Lightweight oil texture blended with 6 kinds of natural plant oil which offer burdenless moisturizing and nourishing effects to create healthy, hydrated skin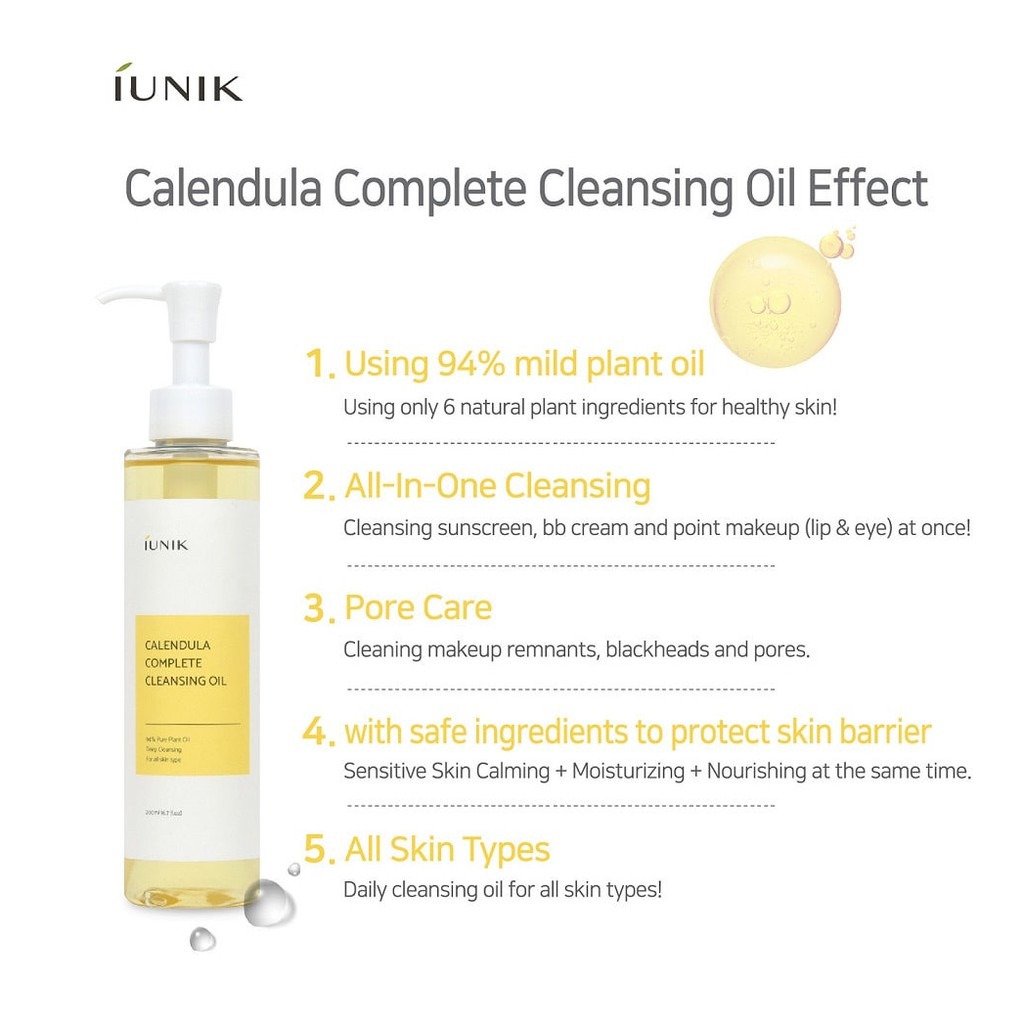 ---
Ingredient List
Helianthus Annuus (Sunflower) Seed Oil, Canola Oil, Calendula Officinalis (Pot Marigold) Flower Extract, Sorbeth-30 Tetraoleate, Simmondsia Chinensis (Jojoba) Seed Oil, Macadamia Integrifolia (Macadamia) Seed Oil, Cananga Odorata (Ylang Ylang) Oil, Ormenis Multicaulis (Chamomile) Oil, Sorbitan Sesquioleate
As you can see, there's quite a good mix of oils in this list. While I can't say for sure if all of them are beneficial for skin, nothing really raises my eyebrows except perhaps the Ylang Ylang oil, which is an essential oil.
---
Review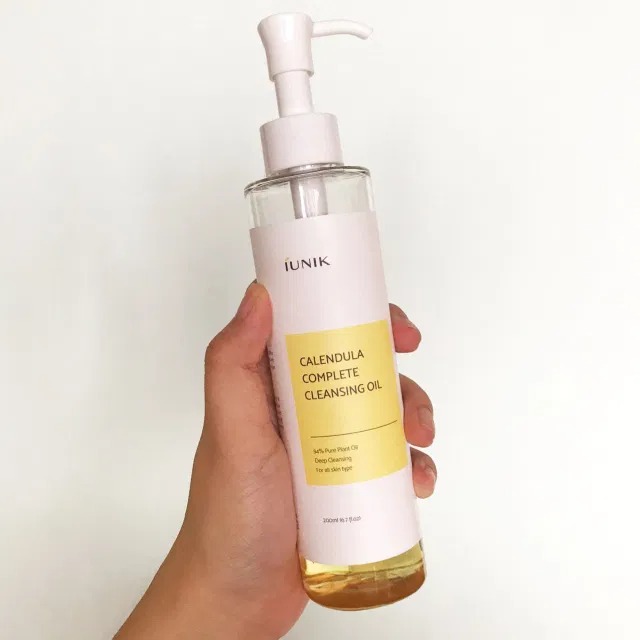 Packaging
I feel like this packaging reminds me of another skincare brand but I can't seem to remember which – is it CORSX?
Design similarities aside, this is a pretty hygienic and clean product packaging for me. I've never experienced any messes or spills with this, which is great because I shudder to imagine cleaning up an oil spill.
Texture
It's a cleansing oil so naturally it's oily, but I find that it's not as greasy as some other cleansing oils that I've used before. I like to massage my skin with the oil for 1-2 minutes before washing it all off – that smooth and clean feeling afterwards is seriously unbeatable.
Effectiveness
iUNIK Calendula Complete Deep Cleansing Oil claims to remove makeup – unfortunately I started using this during quarantine / Circuit Breaker so I haven't been applying makeup. The most I've done is to put on sunscreen, but this cleansing oil has managed to completely remove all traces of my mineral sunscreen, so for now I can tell you that its cleansing power is commendable enough.
What I can tell you, however, is that I have seen a huge improvement with this cleansing oil. One of my biggest struggles is with clogged pores – a problem made worse by the fact that the oily parts of my combination skin are really oily.
After I started using iUNIK's Cleansing Oil, I have even seen a reduction in hormonal acne (right before my period), which is pretty fascinating because my acne usually goes out in full force with the hormones & sebum – oil cleansing has managed to keep that sebum production under control!
---
Final Verdict
I used to scoff at cleansing oils but after using iUNIK Calendula Complete Deep Cleansing Oil, I figured that I was just using the wrong product all this time.
If you haven't tried double cleansing with cleansing oils, you have to give this a shot! Those with oily and acne-prone skin will really enjoy using this and get hooked on double cleansing forever (aka me).
Source link https://vbeautytalk.com/review-iunik-calendula-complete-deep-cleansing-oil/