Propolis Vitamin Synergy Serum + Eye Cream Review
Lazy to the bone, I've always enjoyed a simple routine with potent products. Like a bee to honey, I was attracted to iUNIK's hyper-popular Propolis Vitamin Synergy Serum and new Propolis Vitamin Eye Cream.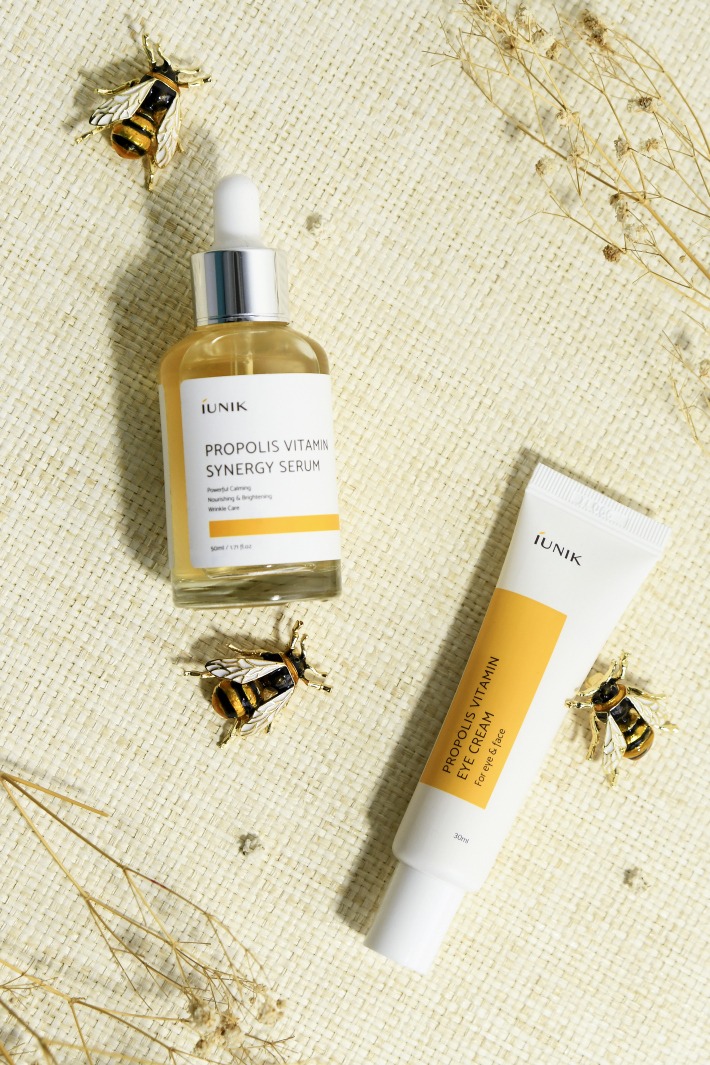 What is propolis?
Unlike me, bees are so hard-working! They're the powerhouse of many skin-friendly substances including honey, royal jelly, beeswax, propolis, pollen and bee venom. While honey and royal jelly are sweet, pure propolis isn't – it even tastes a little spicy and bitter. Despite its taste, it has a naturally sweet smell. To understand why that is, let's look at what propolis is made of.
Propolis is hard and brittle when frozen but melts into a sticky substance at 25°C. Used for gluing and sealing beehives, it's a dark brown mixture of honey bees' saliva, beeswax and exudate from tree buds, saps and other botanical sources – hence the sweet smell! Its typical chemical composition includes 50% resin which protects trees against bacteria, acaricides which kill mites, waxes (30%), essential oils (10%) and pollen (5%).
Because of its antibacterial, antioxidant and healing properties, propolis is often used in skin care and health supplements.
How much propolis is contained in iUNIK's Propolis Vitamin Synergy Serum & Propolis Vitamin Eye Cream?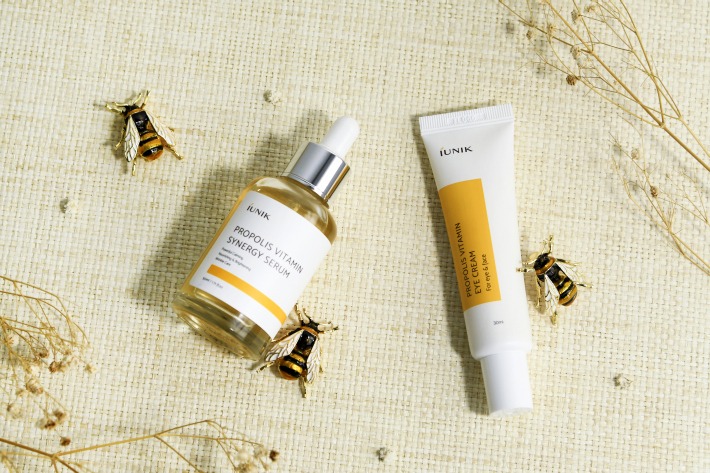 The serum contains an optimal 70% propolis and 12% Vitamin C-rich sea buckthorn, as well as centella, purslane, witch hazel and ginkgo extracts to soothe skin. The eye cream contains 40.5% propolis, 9.2% sea buckthorn and 300ppm of idebenone, an antioxidant ten times as powerful as coenzyme Q10 that reduces wrinkles and improves skin elasticity. Both products are free from ethanol, artificial colorants and fragrances. Here are the full ingredient lists:
Propolis Vitamin Synergy Serum:
Propolis Extract, Hippophae Rhamnoides (Sea Buckthorn) Fruit Extract, Water, Butylene Glycol, Glycerin, Methylpropanediol, Niacinamide, Dipropylene Glycol, 1,2-Hexanediol, Rosa Damascena (Rose) Flower Water, Sodium Hyaluronate, Betaine, Glycosyl Trehalose, Honey Extract, Beta-Glucan, Hydrogenated Starch Hydrolysate, Allantoin, Carbomer, Arginine, Hydroxyethylcellulose, Adenosine, Dipotassium Glycyrrhizate, Pentylene Glycol, Citrus Aurantium Bergamia (Bergamot) Fruit Oil, Centella Asiatica (Gotu Kola) Extract, Portulaca Oleracea (Green Purslane) Extract, Hamamelis Virginiana (Witch Hazel) Extract, Punica Granatum (Pomegranate) Extract, Ficus Carica (Fig) Fruit Extract, Morus Alba (White Mulberry) Fruit Extract, Ginkgo Biloba (Maidenhair Tree) Nut Extract, Caprylyl Glycol
Propolis Vitamin Eye Cream:
Propolis Extract, Water, Hippophae Rhamnoides Fruit Extract, Butylene Glycol, Glycerin, Caprylic / Capric Triglyceride, Niacinamide, Cetyl Ethylhexanoate, Ceteratyl Olivate, Betaine, Glycosyl Trehalose, Camellia Japonica Seed Oil, Prunus Amygdalus Dulcis (Sweet Almond) Oil, Olea Europaea (Olive) Fruit Oil, Sodium Hyaluronate, Sodium Acetylated Hyaluronate, Hydrolyzed Hyaluronic Acid, Sorbitan Olivate, Beta-Glucan, Lactobacillus / Rice Ferment, Lactobacillus / Ginseng Root Ferment Filtrate, Lactobacillus / Soybean Ferment Extract, Saccharomyces / Potato Extract Ferment Filtrate, Saccharomyces / Coix Lacryma-Jobi Ma-yuen Seed Ferment Filtrate, Xanthan Gum, Celtella Asiatica Extract, Pentylene Glycol, Glycyrrhiza Glabra (Licorice) Root Extract, Polyglyceryl-10 Laurate, Polygonum Cuspidatum Root Extract, Scutellaria Baicalensis Root Extract, Hydrogenated Starch Hydrolysate, 1,2-Hexanediol, Hydrogenated Lecithin, Caprylyl Glycol, Behenyl Alcohol, Cetearyl Alcohol, Ammonium Acryloyldimethyltaurate / VP Copolymer, Polyglyceryl-3 Methylglucose Distearate, Tromethamine, Acrylates / C10-30 Alkyl Acrylate Crosspolymer, Allantoin, Disodium EDTA, Citrus Aurantium Bergamia (Bergamot) Fruit Oil, Ethylhexylglycerin, Adenosine, Hydroxydecyl Ubiquinone (300ppm), Aspalathus Linearis Extract, Caramel, Camellia Sinensis Leaf Extract, Rosmarinus Officinalis (Rosemary) Leaf Extract, Chamomilla Recutita (Matricaria) Flower Extract, Yucca Schidigera Root Extract, Commiphora Myrrha Resin Extract, Perilla Frutescens Leaf Extract, Copper Tripeptide-1, Acetyl Hexapeptide-8, Limonene, Linalool
How they feel on skin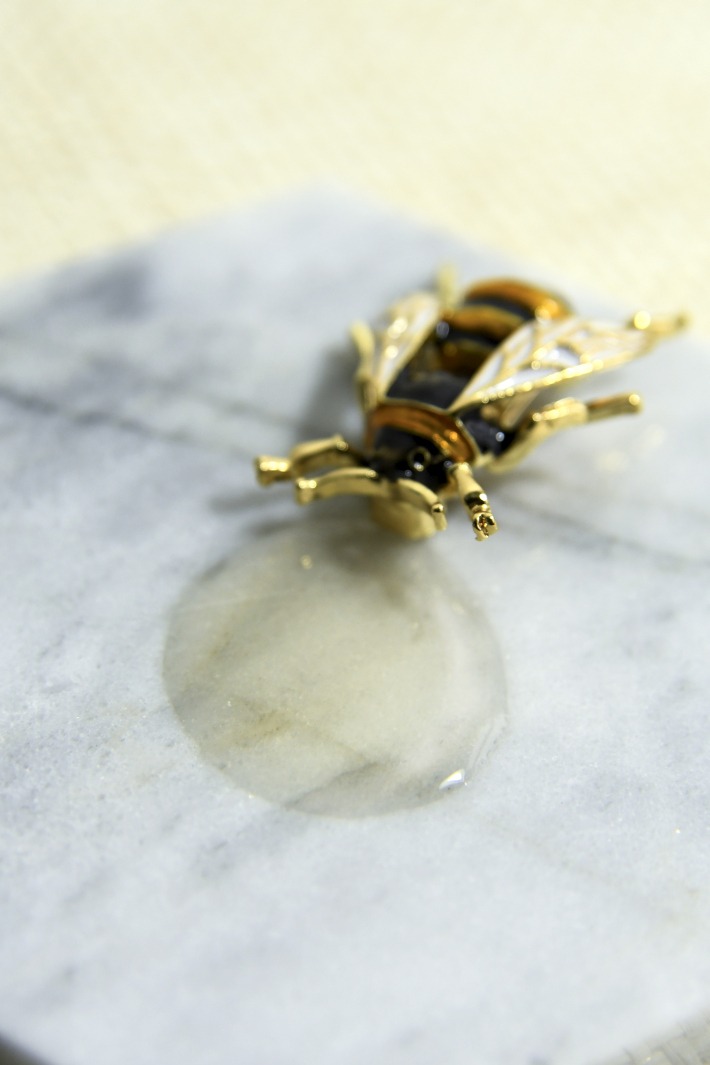 Contained in a clear, labeled dropper glass bottle, the Propolis Vitamin Synergy Serum boasts a clear yellow color that reminds me of honey. It's a little viscous but fluid enough to spread easily and absorb quickly into skin. Despite the waxy nature of propolis, the serum is more on the watery side. Still, bubbles may form in the dropper if you don't depressurize the bulb completely before immersing its tip into the serum. The serum gives off a sweet floral smell just like honey.
Even when my skin was at its worst, the Propolis Vitamin Synergy Serum didn't irritate or dry out my skin. It also didn't leave any traces of residue. I've tried using it day and night in generous amounts, and my dry skin soaked it up immediately. I also enjoy using it before makeup on the dryer areas of my face for a quick boost of moisture.
The Propolis Vitamin Eye Cream is contained in a plastic tube with a nozzle that's larger than that of most eye creams. It boasts the same floral scent as the serum. I only tried it on my eyes at first, but soon decided to use it on my entire face because it's oh-so-good! Coming in a creamy white color, the sorbet-like cream is super fine and smooth with no sticky or oily feeling whatsoever. I usually use this right after applying toner or before going to sleep, and I'm immediately left with softer, smoother skin. Again, sometimes I choose to apply it only over the dry areas of my face, such as the smile lines and my acne-prone chin.
A game-changer for sensitive and mature skin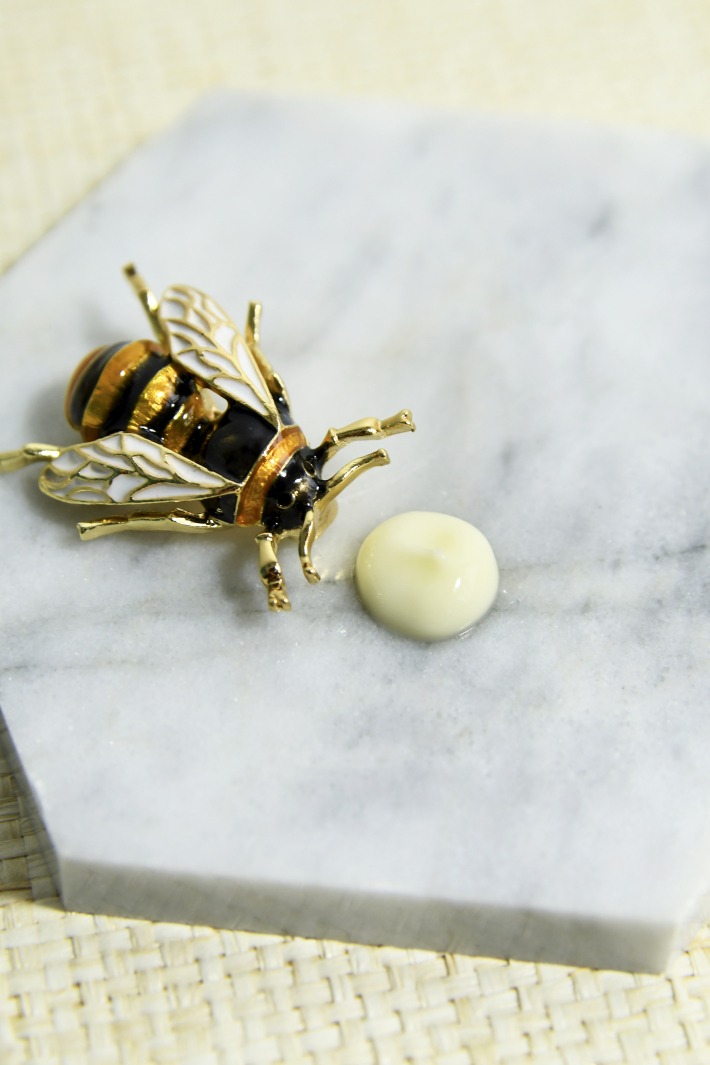 After one month of use, a miracle happened – not just one, but two people said that my skin was smoother! One of them was even a makeup artist who was about to apply makeup on me. Truth be told, I've never been complimented on my skin. I have bumpy acne scars all over my face, an oily T-zone, a dry and blemish-ridden chin, and obvious wrinkles at the corners of my eyes. One time, I was urged by an MUA to use a sheet mask every day for a month because my skin was too dry. To have had two people complimenting my skin was an unprecedented success.
First thing I noticed about the improvement on my skin was the reduction of blemishes. I used to have continuous flareups at my chin, but now they're scarcer, smaller and easier to conceal. The other parts of my face, which was speckled with scars and fine lines, now becomes just like normal. My pores are much less visible now, even to the extent that I can now call my forehead and cheeks SMOOTH. My nose also looks clearer, and my forehead is less oily. I'm now more confident walking out with no makeup on – Yes, the benefits are this dramatic!
The verdict
Both the serum and the eye cream help with firming, brightening and pore-tightening. I've tried using the two separately, and I feel like the serum is ultra-soothing but not moisturizing enough. The eye cream complements it perfectly as a moisturizer. I'm completely won over by their astonishing soothing power within the first week of use and firming power within the second week. What more can I say but to stock up right away!
https://www.yesstyle.com/blog/2020-02-19/iuniks-propolis-vitamin-synergy-serum-eye-cream-review-beauty-lab/