Disclaimer: I use affiliate links in my blog posts. By using one of my affiliate links, I receive a few dollars. This helps support the blog since I do not accept money for product reviews. I never use affiliate links for products that I don't actually recommend. If you feel uncomfortable using affiliate links, please don't feel obligated to click on anything in this blog. You will also see that quite a few products have been sent to me for free. As a beauty blogger, I receive many products each month. I test out each product before giving an honest review. I am not required to include them in any posts, so if you see them show up, I actually like the products.
>> iUNIK <<
iUNIK is a minimalistic k-beauty skincare brand.
iUNIK stands for Ideal (ideal for skin), Unique (unique and effective products), Natural (using only natural, safe formulations), Ingredients (remove the bad ingredients, add the good ingredients), Knowhow (know-how to develop the best products).
I think it's cute that they tried to come up with a unique name, but it's a little too much in my opinion. I'm going to assume that it sounds a lot more creative to people in South Korea. However, I liked the name a lot more when I thought it stood for something in Korean.
Other than the interesting name, I do like the concept of the brand. They are pretty transparent with their ingredients, and they spend their money on quality instead of over-the-top packaging.
I'm always a little skeptical about companies that claim to use natural ingredients. Are they using natural ingredients that are fantastic for the skin, or are they just pumping the products full of random ingredients that can be naturally derived but don't provide any real skin benefits?
Thankfully, iUNIK sent me two of their products to test and review*. I was able to select two products from their entire lineup, and I chose the Calendula Complete Cleansing Oil and the Black Snail Restore Serum.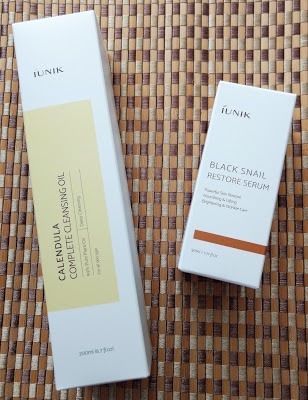 >> Calendula Complete Cleansing Oil <<
The iUNIK Calendula Complete Cleansing Oil a lightweight oil that claims to remove all traces of sunscreen and makeup. I don't like to rely on a cleansing oil for makeup removal, but I can say that this oil deep cleans my skin without leaving any residue. I love that this cleansing oil can be used for all skin types, including acne[prone and sensitive skin.
This cleansing oil is formulated with Calendula Flower Extract, Sunflower Seed Oil, Jojoba Seed Oil, Cananga Odorata Flower Oil, Canola Oil, and Macadamia Nut Oil. After using the entire bottle, I can honestly say that I found my Holy Grail cleansing oil! My skin always felt nourished but clean when I double cleansed with this cleanser, and it didn't matter what I used for my second cleanser.
This is the second [roduct that I've tried with Calendula Flower Extract, and I have to say that I'm pretty impressed with the results. Calendula is amazing for softening the skin, and you can see the results after only one use! I recommended this cleanser to my best friend (my actual BFF in real life), and she also fell in love with this product! My friend has a completely different skin type than I do, and we both enjoyed this cleanser so much.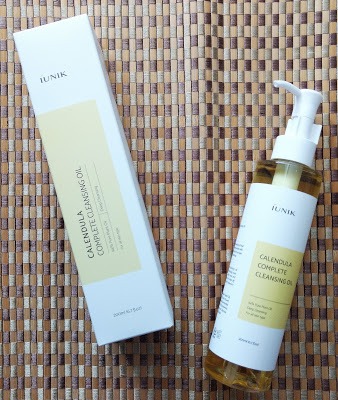 Key Ingredients:
Calendula Flower Extract- calms and strengthens skin
Sunflower Seed Oil- gently moisturizes skin
Jojoba Seed Oil- balances the skin
Cananga Odorata Flower Oil- controls sebum production
Canola Oil- deeply moisturizes skin
Macadamia Nut Oil- calms and restores the skin barrier
How To Use:
Apply two pumps of oil into the palms of your hands and gently massage the oil into your dry face. Once your face is coated, add a little water to your hands and massage your face again. Once all the oil looks milky, rinse your skin thoroughly with water. Follow up with a water-based cleanser to remove all traces of the oil cleanser.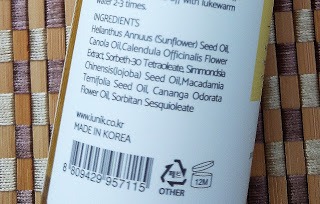 Full Ingredients List:
Helianthus Annuus (Sunflower) Seed Oil, Canola Oil, Calendula Officinalis Flower Extract, Sorbeth-30 Tetraoleate, Simmondsia Chinensis(Jojoba) Seed Oil, Macadamia Ternifolia Seed Oil, Cananga Odorata Flower Oil, Sorbitan Sesquioleate
>> Black Snail Restore Serum <<
The iUNIK Black Snail Restore Serum is a fantastic anti-aging serum with a very high concentration of Snail Secretion Filtrate (70%). If you have been reading my blog for a while now, you probably already know that I LOVE Snail Mucin! I love Snail Mucin in my sheet masks, cleansers, serum, moisturizers, and essences. I cannot get enough of this amazing ingredient. Of course, I just had to try the Black Snail Restore Serum, the first ingredient is Snail Secretion Filtrate!
Besides for Snail Mucin, this serum is packed with amazing ingredients. Based on the ingredients list, this serum is great for brightening, firming, hydrating, and keeping skin looking youthful. I am so impressed with the quality of this serum, there are no fillers in the ingredients list! There are so many expensive serums on the market that are basically just water or fillers with a sprinkle of great skincare ingredients. This serum is the real deal.
I have been using this serum on and off for the last few months, and the bottle is finally almost empty. The serum always feels so clean and pure when I apply it to my skin, and I love to use it after applying treatment serums. I can't say that this serum has any lasting anti-aging benefits because I don't use it consistently, but I do notice my skin looking radiant whenever I add the Black Snail Restore Serum to my routine.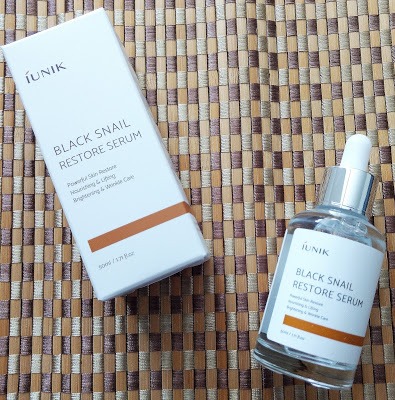 Key Ingredients:
Black Snail Secretion Filtrate (70%)- skin-restoring
Black Superfoods (black beans, black rice, black sesame, kelp, eggplant)- antioxidants
Centella Asiatica- heals and repairs skin
Fermented Ingredients (mistletoe and soybean ferment extract)- increases skin moisture and helps repair skin damage
How To Use:
After toning, apply a few drops of serum to your palms and pat into your skin. Follow up with a moisturizer.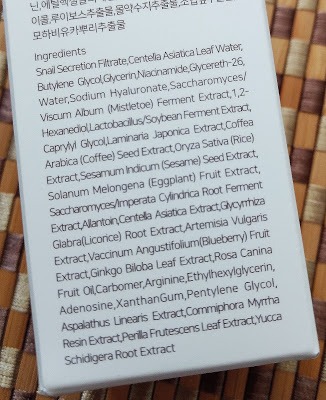 Full Ingredients List:
Snail Secretion Filtrate, Centella Asiatica Leaf Water, Butylene Glycol, Glycerin, Niacinamide, Glycereth-26, Water, Sodium Hyaluronate, Saccharomyces/Viscum Album (Mistletoe) Ferment Extract, 1,2-Hexanediol, Lactobacillus/Soybean Ferment Extract, Caprylyl Glycol, Laminaria Japonica Extract, Coffea Arabica (Coffee) Seed Extract, Oryza Sativa (Rice) Extract, Sesamum Indicum (Sesame) Seed Extract, Solanum Melongena (Eggplant) Fruit Extract, Saccharomyces/Imperata Cylindrica Root Ferment Extract, Allantoin, Centella Asiatica Extract, Glycyrrhiza Glabra (Licorice) Root Extract, Artemisia Vulgaris Extract, Vaccinum Angustifolium (Blueberry) Fruit Extract, Ginkgo Biloba Leaf Extract, Rosa Canina Fruit oil, Carbomer, Arginine, Ethylhexylglycerin, Adenosine, Xanthan Gum, Pentylene Glycol, Aspalathus Linearis Extract, Commiphora Myrrha Resin Extract, Perilla Frutescens Leaf Extract, Yucca Schidigera Root Extract
>> Final Thoughts <<
I thoroughly enjoyed both of these products, and I am going to be purchasing the cleansing oil in the future. I already recommend the cleansing oil to my best friend and she is obsessed with how well it removes makeup!
iUNIK definitely got my attention with these fantastic products. I am definitely interested in trying their Propolis Vitamin Synergy Serum next. Propolis is one of my favorite skincare ingredients, it's right up there with snail secretion!
I hope you enjoyed this review of iUNIK skincare! If you want to read more of my skincare reviews, check out the Skincare Reviews Series tab at the top of this page. I have so many amazing skincare reviews coming soon so stay tuned!
SOURCE LINK https://brooklynbeautyqueen.blogspot.com/2020/03/iunik-skincare-review.html