Iunik Beta-Glucan Cream Review: Power-packed moisturizer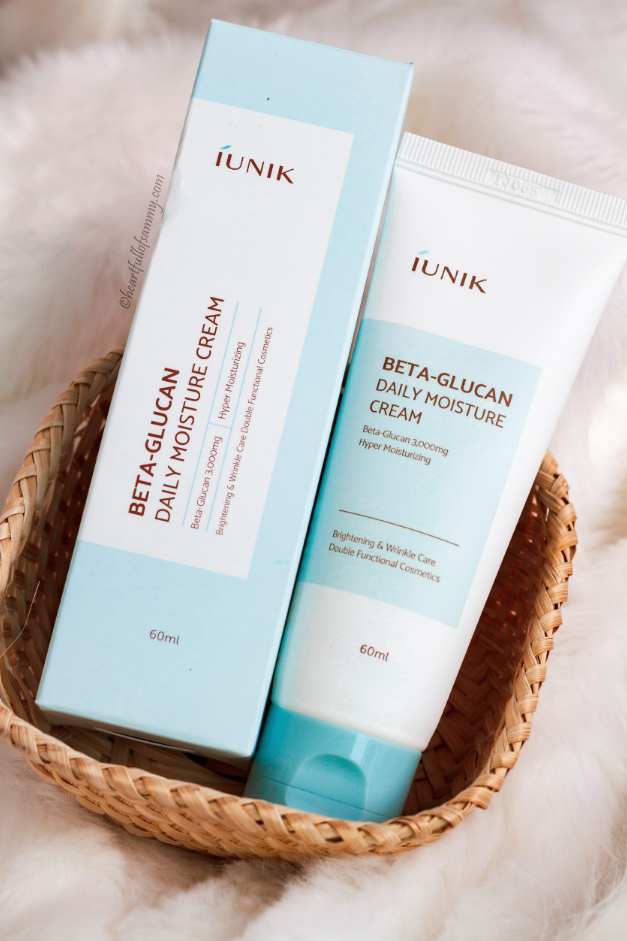 By far IUNIK products have been a major highlight in my vanity for 2020. I first started from their serums – Tea Tree Relief serum, Beta Glucan serum, Noni Light Oil serum, and Propolis serum. All their serums were good and I enjoyed each one of them. Next, I tried their creams – Centella Calming Gel Cream and Propolis Vitamin Sleeping Mask; cleansing oil – Calendula Complete Cleansing Oil. I have to admit all of their products have impressed me so far. The latest addition to my growing IUNIK family is the Beta-Glucan Daily Moisture Cream. Will this Beta-Glucan Daily Moisture Cream continue to hold the legacy like its predecessors? Read along the Iunik Beta-Glucan Cream Review to find out more.
What is this about?
Claims: hyper moisturizing, nourishing, brightening and wrinkle care
Just like their Beta-Glucan serum, the Beta-Glucan Daily Moisture Cream is formulated with 3000mg beta-glucan (sourced from mushrooms) as their key ingredient. Beta-glucans are the third generation of moisturizing agents. The first generation is Glycerin and the second-generation is the very much popular – Hyaluronic Acid. The good thing about this cream is that it contains all the three generations of moisturizing agents – Glycerin, Sodium Hyaluronate, and Beta-Glucan.
Key Benefits of Beta-Glucan:

great skin soother and moisturizer
good wound healing properties
has anti-aging benefits
I have written in detail about Beta-Glucans in my previous post – Iunik Beta-Glucan serum. I invite you to read it if you want to know more about Beta-Glucans.
Other star ingredients in the Beta-Glucan Daily Moisture Cream are:
Centella Asiatica – helps calm and soothe sensitive skin.
Special red fruit complex (Prunus, Raspberry, Strawberry, Peach, Punica) – anti-inflammatory, nourishes and rejuvenates tired skin.
Aloe Vera Extract – excellent soothing properties
Niacinamide – anti-acne, skin-brightening, anti-aging, fades brown spots.
How I use it?
Just after the usual routine toner and serums. The cream does not feel heavy and layers well with my other products.
My Thoughts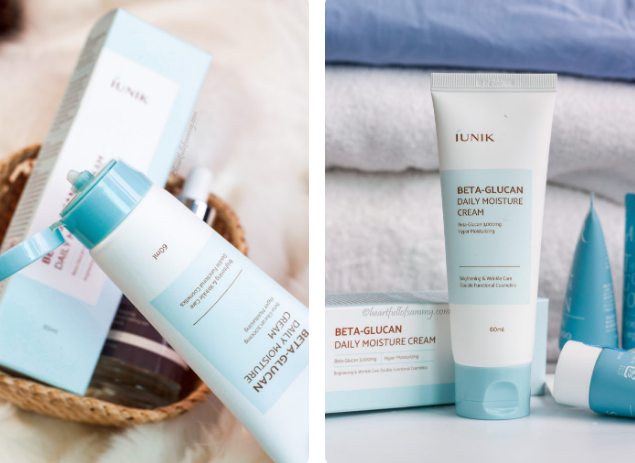 I had recently emptied my Nacific Fresh Herb Cream and was searching for an ideal alternative to replace my moisture lock-in cream. The Iunik Beta-Glucan Moisture Cream fits that category perfectly. As the days are transitioning to a warmer weather, I prefer my night time moisturizers to have the perfect blend of lightweight feel and deep moisturization.
The Iunik Beta-Glucan Moisture Cream has a soft gel-like texture. The cream immediately melts into a thin consistency cream.
Some highlights of the Beta-Glucan cream are:

Hydrating and soothing
Lightweight and nourishing
Contains no artificial fragrance (no apparent smell)
Absorbs quickly, non-greasy finish
Leaves the skin supple and smooth
It gives a nice healthy glow
Super affordable
Besides the above features, for me, one of the major highlights of this cream is that despite being lightweight; it also extremely hydrating and nourishing. Additionally, it also gives a nice glowy sheen which I like. I, however, prefer to use this during my night-time routine as it can get a bit too shiny during the hot summer days. Nonetheless, this is a great moisturizer for all skin types.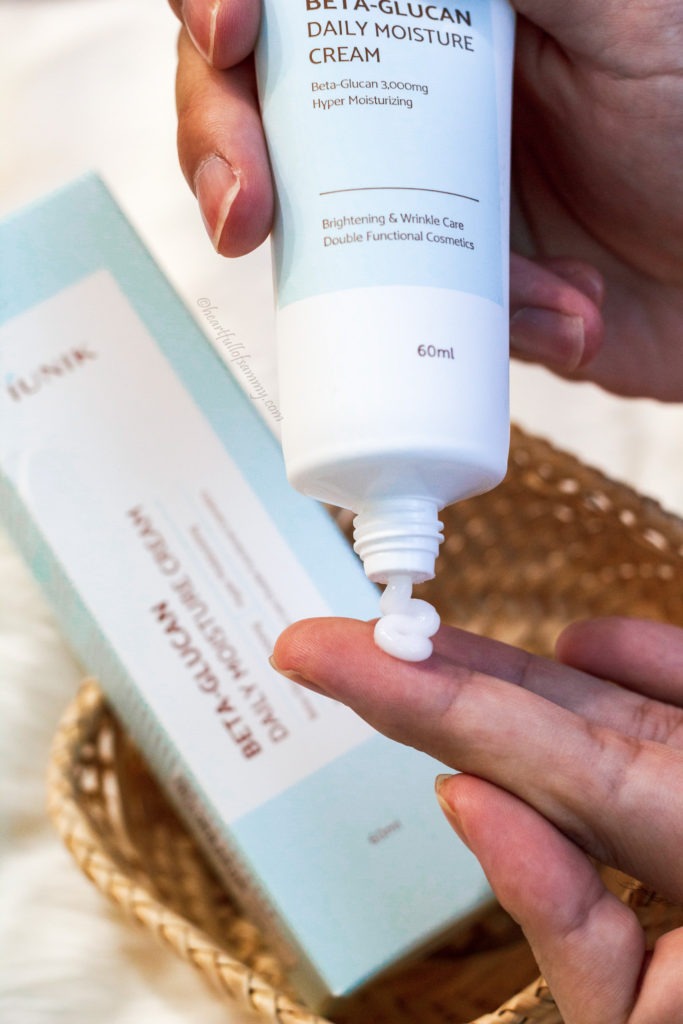 Conclusion
The Iunik Beta-Glucan Daily Moisture cream does feel like a good investment for a moisturizing cream. The 60ml tube container makes this compact and travel-friendly. The best part of this cream is that it is affordable. The cream usually retails for around 13-14USD (cheaper price during discount promotions).
I would have to say the Beta-Glucan Daily Moisture Cream is worth investing in if you are looking for an affordable moisturizer.