I have already bragged about my admiration for iUNIK's products in my previous post "The Ideal Soothing Serum – iUNIK Tea Tree Relief Serum Review". I am amazed by their products and just a little heads up, there will be more iUNIK product reviews coming up soon.
I love how iUNIK uses simple naturally-derived ingredients. Just like their other products, the iUNIK Calendula Complete Cleansing Oil is a deep cleansing oil that is infused with 94% plant oils, as well as calendula flower extract thus offering a powerful removal of makeup and sunscreen. As this is blended with different kinds of natural plant oil, along with providing gentle deep cleansing, this also moisturizes and hydrates the skin and thus this does not strip the skin dry. This comes in a whopping 200ml, clean, aesthetic looking plastic pump-bottle and I love the overall look of the packaging. All the iUNIK products score an A-plus in the packaging department.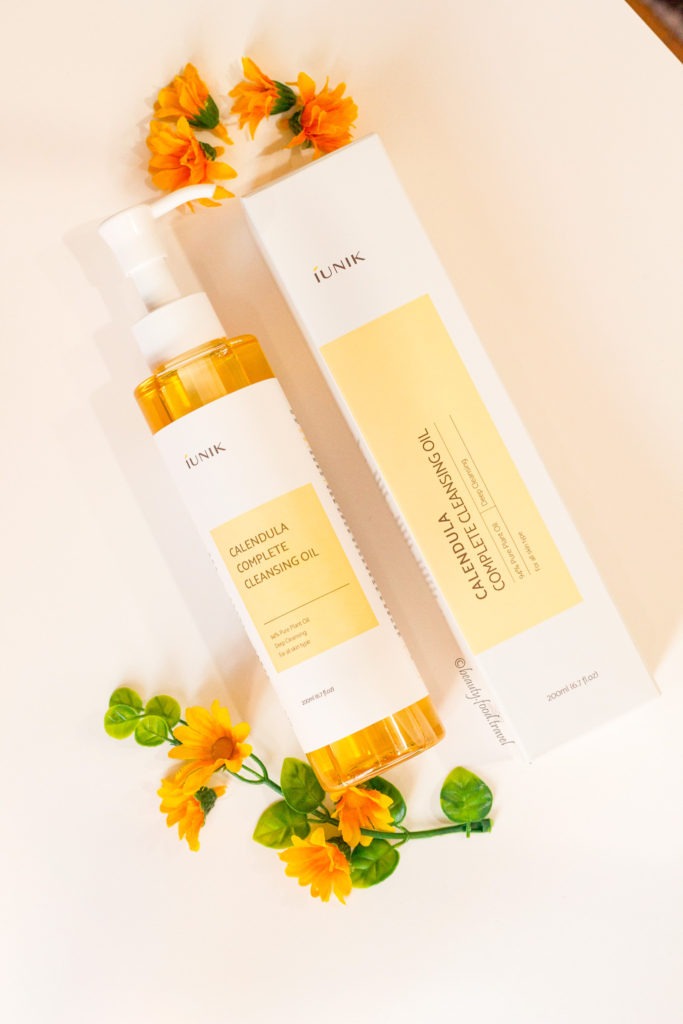 How I use it and how it works
I wear foundation occasionally but never miss out on sunscreens. My makeup is usually minimal but I have tried this with my water-proof mascaras, eye-liners and lip tints. The consistency of this oil is slightly thick as compared to the Softymo cleansing oil. It has a peculiar smell, which I guess is either from the calendula extract or the ylang-ylang oil (Cananga odorata) and I was not quite a fan of it initially. Now I have just gotten accustomed to the smell and it does not bother me anymore.
It works pretty well in removing all eye makeup without stinging or burning the eyes. When I used this in the normal amount (2 pumps), I felt like it was tugging my skin because it has a slightly thicker consistency. So, I have been using this a little bit more than the usual amount (like 2~3 pumps) and it doesn't seem to be pulling my skin at all. I guess with slightly thicker consistency oils, you need to increase the amount to not feel like it is tugging the skin.


https://heartfullofsammy.com/2020/02/07/review-iunik-calendula-complete-cleansing-oil/