Will An Oil Cleanser Make My Skin More Oily?
Double cleansing is probably one of the most defining (and important) steps of any Korean skincare routine. It involves cleansing your skin in two steps: first with an oil-based cleanser, followed by a water-based cleanser. Using an oil cleanser in addition to a water-based cleanser ensures that you remove oil-based impurities including sunscreen, makeup and excess sebum to help prevent clogged pores and acne.
There are so many Korean oil cleansers to choose from (and some really great Japanese ones too). These come in two forms: solid cleansing balms and liquid cleansing oils. If you're just starting a Korean skincare routine, you might be wondering what the difference is between a cleansing balm and a cleansing oil and which one is better for you skin. To help you create the perfect skincare routine for your skin, I'm going to answer this question for you today.
Will An Oil Cleanser Make My Skin More Oily?
The first question that people ask when first discovering oil cleaners is "won't it make my skin more oily?". I asked the same question because my whole life (before starting a Korean skincare routine), I cleansed my face multiple times a day and used an astringent toner to try to keep any oil away. I also avoided applying any type of moisturizing products and never wore sunscreen. But this just led to even more sebum production AND damaged my skin's moisture barrier too!
Since using an oil cleanser (in my evening routine only, followed by a low pH water-based cleanser), I've found that my skin has improved so much. It's definitely MUCH LESS oily (even in the middle of our hot and humid summer) and I don't have as many clogged and enlarged pores.
So the answer is no, an oil cleanser definitely won't make your skin more oily (unless you're over-cleansing of course). The reason for this is that the oils in your oil cleanser actually help to pull oil-based impurities from your pores.
And oil-based cleansers won't leave an oily residue as they contain emulsifiers (surfactants), which when you apply water to your face (after you've massaged your oil cleanser into your skin), help to dissolve the oil cleanser and rinse it off your skin without leaving any oil behind. There are many different types of emulsifiers used in skincare products, and just some of the ones you might find in oil cleansers include: polysorbate 60, PEG-40 sorbitan peroleate, PEG-20 glyceryl triisostearate, PEG-10 isostearate and sorbeth-30 tetraoleate.
Do I Need To Use An Oil-Based Cleanser?
As you might know, oils and water don't mix – which means that only using a water-based cleanser won't efficiently remove impurities such as sunscreen, makeup and excess sebum.
I use the word 'efficiently' because water-based cleansers can still remove sunscreen and other oil-based impurities with the help of the surfactants they contain. However, these don't work as well as oil cleansers, which as the name suggests contain large amounts of oil which really help to lift off anything oil-based from your skin.
This is especially the case when it comes to removing some types of sunscreens (including zinc oxide-based ones). The ingredients in some skincare products (such as crosspolymers and silicones) make them quite difficult to wash off your face with a water-based cleanser only (even if you cleanse twice).
Some people prefer to wash their face twice using a water-based cleanser (instead of using an oil-based cleanser first), however I'd be concerned that this might affect my skin's moisture barrier due to pH-altering affects of most water-based cleansers (with the exception of some low pH cleansers). The pH of healthy skin is slightly acidic and using a high pH cleanser (that is alkaline) damages the acid mantle of your skin, allows bacteria to grow and yep, you guessed it – leads to acne or worsening of other skin conditions such as rosacea.
Why You Might Prefer A Liquid Cleansing Oil
As I've already mentioned, I find cleansing oils easier to use as they come in a pump bottle. This type of packaging (as opposed to tubs) also makes them more hygienic to use. Even if you're using a clean spatula every time you use a balm, there's still a chance bacteria can get into the product every time you open the lid.
Although cleansing balms work out cheaper in the long run (because they last a little longer if you're careful not to overuse the product), I like that there is more price variety with cleansing oils.
Cleansing oils also vary in consistency, with some being more watery (a thin liquid) and others being thicker and richer. This is great if you favor certain textures over others or if you're experimenting with what thickness works best for your skin.
Remember I mentioned how oil cleansers emulsify on contact with water? Well, cleansing oils tend to emulsify easier than cleansing balms, requiring less massaging of the skin. So you might prefer a cleansing oil if you're time poor and extremely tired by the end of the day and want a no-fuss skincare routine. They are also good if you want to be extra gentle around your eye area to avoid getting wrinkles!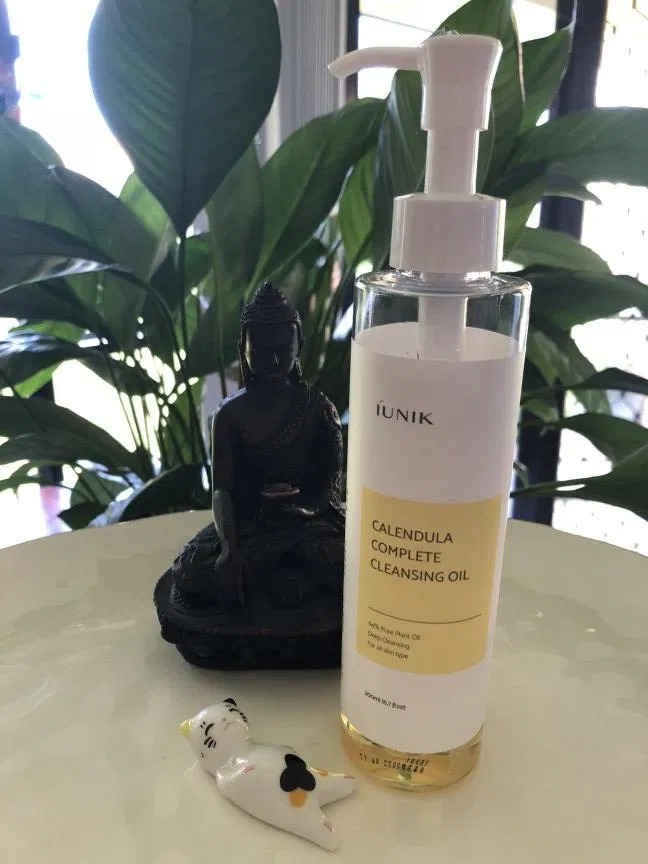 I personally also like that the cleansing oils I've tried don't make my vision blurry and make me feel like there's a film over my eyes for a while. The cleansing balms I've used in the past (although safe to use on the eyes) caused my vision to be blurry for a minute or two, which is a bit inconvenient when I'm trying to rush through my evening routine and get to bed before my toddler wakes up again.
Although I don't wear much makeup, cleansing oils are perfect for cleaning makeup brushes too – so if you have makeup tools that regularly need a good clean, then a cleansing oil might be for you.
Great Cleansing Oils To Try:
I'm really happy with the oil I'm using so far. If you think you'd prefer a cleansing oil over a cleansing balm, then you're in luck because there is a great oils to choose from.
iUNIK Calendula Complete Cleansing Oil. I love iUNIK so much that I recently wrote a guide to their range of serums! This is the cleansing oil I'm currently using and I'm so happy with it. Just like all iUNIK products, it has a clean, minimal ingredients list. This cleansing oil contains a mix of 6 different plant oils as well as calendula extract. It's available at Yesstyle, Jolse and Amazon.
Blog from https://koreanskincaretips.com/cleansing-balms-vs-oils/